Motorola is being quite aggressive in the smartphone market these days. After  launching the Moto X Play and the Moto X Style recently, the company is now planning to launch a flagship device that will slot above the duo.
The Motorola Moto X Force, which is also codenamed as 'Moto Bounce' internally, is a new device whose press renders have just been leaked along with its specifications. This pretty much means that the launch of the device is just around the corner, and it is only a matter of time that we hear the official announcement. Expect the IFA 2015 this week to play host to the launch of the new flagship, however there's a chance that the announcement might not happen this week.
The Moto X Force will reportedly come with a 5.43-inch display with a resolution of 2560 x 1440 pixels. Just to put things in perspective, we'd like to tell you that the Moto X Play has a 5.5-inch display with a resolution of 1920 x 1080 pixels, while the Moto X Style has a 5.7-inch display with a resolution of 2560 x 1440 pixels. A smaller size display with the same resolution will give the Moto Bounce an edge in terms of screen sharpness as well as battery life.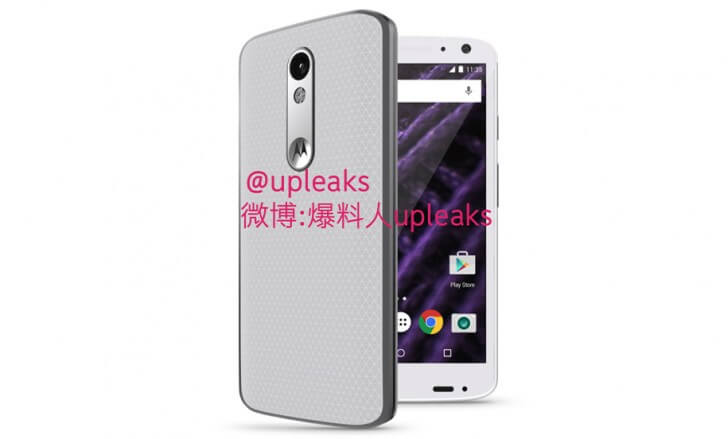 The upcoming flagship will be powered by a Qualcomm Snapdragon 810 chipset coupled with 3GB of RAM. As far as the internal storage capacity goes, this smartphone will be available in 32GB and 64GB trims, but Motorola has removed an ability to expand the storage. The smartphone will also feature a 21-megapixel primary camera that is already used in the Moto X Style with support for 2160p video recording. This device will also feature  a 5-megapixel camera on the front.
It is stuffed with a large 3,760 mAh battery, which seems quite impressive and would easily last a day even with heavy usage patterns. Motorola is going an extra mile with the device by giving it the "Shatterproof" label which means that it would come with military standard ruggedness. Till now, the devices from Motorola were just IPX7 certified, but the Moto X Force will be their first device with a "shatterproof" rating taking things to the next level.
With this device, Motorola will take on the upcoming Sony Xperia Z5 series - the Sony Xperia Z5 Compact, the Sony Xperia Z5, and the Sony Xperia Z5 Premium – that were leaked recently, and feature similar specifications to the Motorola Moto X Force.