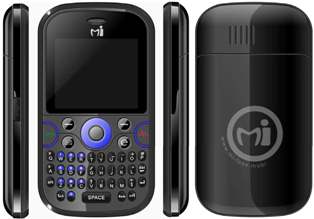 Mi-Fone today announced the launch of Mi-Q  a new range of low cost QWERTY mobile phones which are affordable, stylish and a quality competitive mobile to the Blackberry.The newly introduced Mi-Q range consist of 3 Models Mi-Q+, Mi-Q1 & Mi-Q5.
At the bottom end is the basic Mi-Q+ with GPRS Class 10, WAP 2.0, capacity to receive and send MMS, FM radio, a torchlight and the Qwerty keypad for faster sms.
There is the dual-sim Mi-Q1 has GPRS/WAP/MMS and MP3/Video capabilities with a memory capacity of up to 1G, serving as an effective multimedia Qwerty mobile and a singular device for those with more than a single sim card, which is prevalent amongst young Indian as a way to counteract high call costs between networks.
The Mi-Q5 comes with all of the above, as well as Bluetooth, and is capable of running Java applications such as the new MI-APPS initiative which combines instant messaging and push email under and an integrated format together with social apps such as Face book, MSN, etc.  It can also take a memory card giving it greater capacity and is the option of being able to run Analogue television.
The Mi-Q family is designed to give our young consumers a 'Blackberry experience' at a fraction of the cost, while maintaining a high aesthetic. Our advertising campaign is meant to incite and evoke and inform our target market. It may be tongue-in-cheek but it also clearly demonstrates our willingness to compete for our market, which has been side-lined by the bigger brands through pricing, explains Mr. Patel.
The Mi-Fone range of handsets is available from Home Shop 18 Networks and in Aditya Birla Store.Price range:Mi Q1 : 3399,Mi Q+ : 2500,Mi Q5 : 3999