LG Has launched its much awaited Optimius G Pro in India, Optimus G Pro has a 1.7GHz Snapdragon 600 quad core processor, and runs on Android 4.1 Jelly Bean.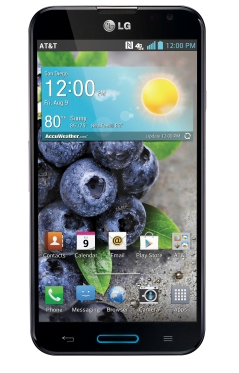 The phone has 2GB RAM and 32GB in built memory, LG has included a 13MP camera with LED flash on the back, while the front is 2.1MP resolution and the phone is priced at Rs 42500.The Optimus G Pro is equipped with the swift Qualcomm Snapdragon 600 processor, which features a 1.7GHz Quad-Core CPU and Adreno 320 GPU.
Combined with other industry-leading features such as a long-lasting 3,140mAh battery and 2GB RAM, LG's Optimus G Pro is one of the most advanced smartphones currently on the market today. With its expansive 5.5-inch 1080p Full HD IPS display delivering a resolution of 1920×1080 pixels at 400ppi, the Optimus G Pro provides razor sharp images and wide viewing angles as well as a comfortable in-hand experience and great pocketability.
LG Optimus G Pro comes with additional software feature like Dual Camera recording that shoots from both the cameras simultaneously as well as 360-degree panorama photographs.The Dual Camera and Dual Recording functions allow users to capture pictures or videos with both the front and rear cameras simultaneously for a unique picture-in-picture experience;
It aslo has the VR Panorama which allows shots of entire horizontal and vertical environments for a full 360° view; Pause and Resume Recording: The Pause and Resume Recording feature allows for the recording of short snippets of video which can then be viewed as one continuous file.
Key Specifications :
• Operating System: Android Jelly Bean 4.1.2
• Camera: Rear 13.0MP / Front 2.1MP
• Battery: 3,140mAh (removable)
• Processor: 1.7GHz Quad-Core Qualcomm Snapdragon 600 Processor
• Display: 5.5-inch Full HD (1920 x 1080 pixels / 400ppi)
• Memory: 16GB / microSD (up to 64GB)
• RAM: 2GB DDR
• Size: 150.2 x 76.1 x 9.4mm
• Colors: Indigo Black, Lunar White.