Leading smartphone maker LG today officially launch its LG G2 smartphone in India for Rs 41500 for its 16GB version and Rs 43,000 for its 32GB version in India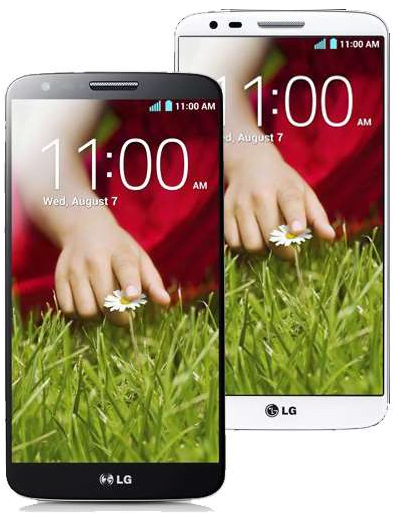 The LG G2 has a 5.2-inch full HD IPS screen, runs on the Qualcomm Snapdragon 800 Processor with 2.26Ghz Quad-Core CPU and comes with Android Jelly Bean 4.2.2. LG G2 has a 13 Mega Pixel rear camera with Optical Image Stabilisation and a 2.1-megapixel front shooter with 3G Video Calling facility, 3,000mAh battery and 2GB RAM. For connectivity, it comes with 2G, 3G, Wi-Fi, Bluetooth 4.0, NFC, infrared and microUSB 2.0.
The LG G2 sports dimensions of 138.5 x 70.9 x 8.9mm, weighs 143 grams, and will be available in White and Black colour options in Indian market.
in LG G2 smartphone, the most unique feature is its design, which departs from the usual layout of hardware keys seen in all smartphones. Instead of Power, Lock and volume keys on the sides or top of the phone, the LG G2 has them on the back panel, just below the camera. It also has dedicated graphics memory, which is likely to help improve battery life.
The G2 also comes with some unique and best software features as below :
Guest Mode - that This feature lets you hand-select the home screen for yourself and a guest, such as a child or a friend, and create separate pattern locks for that user. So you can share your phone whenever you like, and your content and settings stay just how you left them.
Answer Me - that automatically answers the call after lowering the ringtone when the phone is raised to one's ear.
Knock On - A simple knocking gesture is all it takes. Just knock twice on G2 to gently wake your phone's display without picking it up or pressing the power key. G2 senses the gesture and turns the display on. When your hands are full or when you only have a couple of taps to spare, G2 will help lessen the load.
Plug and Pop - which recommends options or related features to choose from when the earphone or USB cable is detected.
Text Link - which allows information embedded in text messages to be selected and easily saved in a memo or calendar and searched on a map or the Internet.
QuickRemote that can remotely control popular home entertainment device like TV, DVD Player and other.
Slide Aside — Enables easier multitasking by simply "sliding" open apps off to the side using a three-finger swipe.
LG G2 key specifications :
5.2-inch full-HD display
2.26GHz quad-core Qualcomm Snapdragon 800 processor
2GB of RAM (LPDDR3 800MHz)
16GB/ 32GB inbuilt storage
13.0 mega pixel rear camera with OIS (Optical Image Stabilizer)
8x Digital zoom, Sapphire Crystal Glass Lens, Multi-point AF (9 Points) and full HD 60fps Recording/Playback
2.1 mega pixel front camera with 3G Video Calling
Android 4.2.2 Jelly Bean
138.5 x 70.9 x 8.9mm
3,000mAh battery