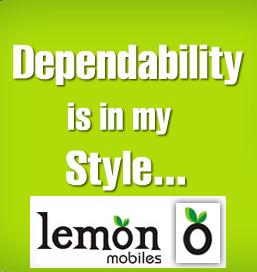 Lemon Mobiles today unveiled an all new Duo 525 mobile handset which claims to be having the fastest processor of 208 MHz in its category for giving you a great video as well as camera performance with faster internet facility combined with edge.
This duo handset also features an endless list of social networking support combined with a set of powerful speakers embedded with an equalizer. Not to forget, this phone is a dual sim (GSM + GSM) capable phone with 5000 phone book memory and also can withstand a maximum of 4000 SMS memory and also packs automatic answering machine.
Some of the key feature list includes FM radio with scheduled recording, advanced theft tracker with remote control, background noise simulator and also with email support like outlook, gmail and yahoo. This phone also comes with a huge 1500mAH battery support plugged with a video and sound recorder.
This phone comes with an internal memory of 80MB but can be expanded to 8GB with the help of external memory card. This phone is available in 3 colors: Red, Royal Blue and Black.
This Lemon DUO 525 supports mobile phone tracking which gives information when the phone is lost. Remote Control is a function which controls the phone through the message command.
Here's a quick check of commands which will be useful if you are planning to buy this phone:
Command: LEMONRC + Password + Command If the password = 0000
Shut Down: LEMONRC0000SHUTDOWN
Call Forward:
LEMONRC0000CALLFORWARD91xxxxxxxxxx
Phone Lock: LEMONRC0000PHONELOCK
Cancel Phone Lock: LEMONRC0000CANCELPHONELOCK
Disk Format: LEMONRCDISKFORMAT
Adding to its endless list of value added services, this phone also is packed with Black List which protects you from receiving unwanted calls or messages. What's the catch is this phone also can be used as a webcam for your PC/Laptop without installing additional drivers. Now, that's call a smart idea, isn't it? Just connect the phone to PC and select web cam mode
This phone also comes bundled with a FREE 2GB memory card with loaded multimedia content of 50 MP3 songs, 10 videos, wallpapers and animations. Also adding to the list of multimedia compatibility, this phone comes with a 2.5mm to 3.5mm headset converter plug in the box giving you a greater convenience to enjoy the multimedia laden content.
This phone also has Hindi and English calendar and not to forget this phone supports most of the codecs like 3GP, MP4, AVI (M-JPEG), RMVB,  FLV formats Supports 3gp format in video recorder and supports MP3, WAV, AMR, AWP, AAC, AAC+, MIDI in music. Huh! With so many features, this phone surely deserves a "BUY" with a price tag of Rs. 3, 799