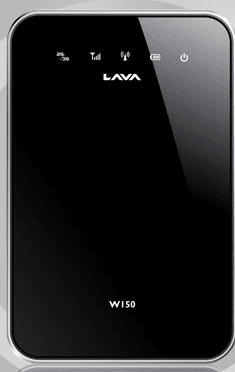 When I got the Lava W150 package, I was just surprised to see the cute small box for the device. Well I am telling you when I opened the box, I find the damn sexy, sleek & small W150.
The package contains the Lava W150, Quick User Guide, Warranty Card, a charger (for AC and USB charging) and a black pouch.After getting the device, I put it on charging for 2 hours which provides me enough charge to start my first date with W150.
It is very much Plug-n-play device, I just switched on it and insert my Huawei E1550 3G modem in its USB port.
It catches the signal very fast but took a minute to connect to internet. You don't need to do anything; it will obtain the APN and connect to internet via GPRS/3G automatically.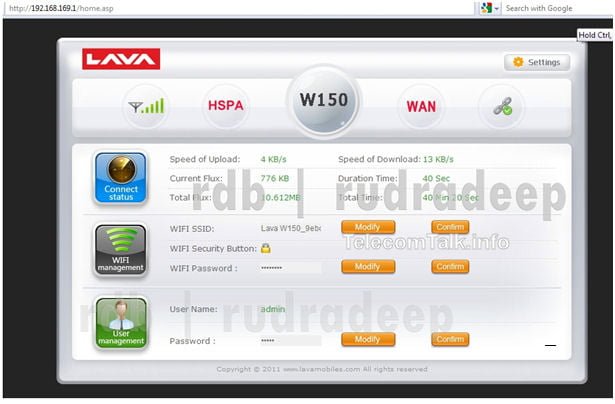 This screenshot looks a like a modem dashboard, but it is actually shown on your web browser. W150 uses web interface, as it works with Windows or Linux simultaneously with any browser. I tested with Opera & Firefox on Windows 7 and Opera, Firefox and Chromium on Ubuntu. Lastly I tried it with Android browsers too, it works flawlessly.
[Screenshot from Android phone Samsung Galaxy 3]
Tested with EVDO Modem:
It did not work, as I used MTS MBlaze which had a network issue that time. Network was in & out in seconds. But I think it would work with all EVDO or 1x devices pretty much without any extra effort.
To access this & unveil all the features under the hood you have to go to '192.168.169.1' or'router.3g' from your browser's address bar. The very neat interface will appear on browser screen.
Under the Settings you will find lot of stuffs waiting for configuring, which often do not need to edit. Click on any settings, and a Help will also appear on the right side.
W150 does not give you a hole in the security. You can filter any content like MAC/IP/URL. You can create your own De-Militarized Zone to separate internal network and internet or setup Virtual Server to provide services on Internet.
MAC Clone:
I think this option will not show the actual MAC of the W150, rather you can set as per your requirement.
Why it is special: Cable broadband operators register your computer in their network by checking your computer's LAN card's MAC address. In this process you can bypass the visit of lineman and still can make a Wifi hotspot at you home without any hassle.
Firmware Update can be done from there too.
Wifi Hotspot:
When you insert a USB modem or RJ45 on W150, it creates WiFi Hotspot very fast. I tried with 3 devices connected to it – a laptop & 2 mobile phones. There was no problem. Certainly I was not able to check Lava's claim of 32 devices connected via W150.
Just note, for BSNL Broadband or other ISP, you need to put the ADSL modem into PPPoE mode, not BRIDGE mode. Thus the modem will auto connect and thus W150 will create the WiFi network.
File Sharing:
I tried with my laptop and my brother's android phone. Check the screenshot below.
It is easy to get files from the mobile and vice versa. I used Wifi File Explorer app on Android phone.
Battery Life:
Since it is a portable/pocket wireless router, battery life is important for W150. I got around 3+ hours from it, which is sufficient for frequent travellers as most laptops offer similar back up.
Price: Rs 2900
Verdict:
With respect to price point, feature sets and easy setup Lava W150 is a really good buy – Best Value for Money! It is not only for frequent travellers, it can also be a household device in coming days, as one broadband connection can be shared with many devices like smartphones, PSPs, Gaming consoles, laptop, e-Book reader, tablet, PMP, laptop, netbook etc.