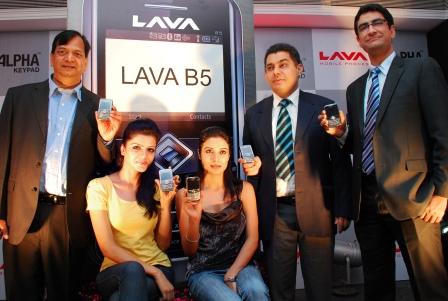 Lava International Ltd, one of the leading mobile handset brands in the country sets a new standard with its latest innovation by introducing alpha keypad phones.
This innovative key pad is neither traditional Multi-tap nor QWERTY; instead the keys are arranged in ABCD order to provide convenience for the users. The brand has come-up with a new business series handsets featuring the innovative key pad.
To begin with, it has introduced this unique keypad in its new B2 & B5 handsets. This is the first time that any mobile handset player has been able to offer an option to make life simple for a large segment of mobile users, who were not familiar or comfortable with QWERTY or Multi-tap keypads.
The company claims the concept behind Alpha key-pad phone is to make texting and e-mailing easier and faster. India has the largest number of people using sms and the Alpha keypad will go a long way to empower a very large segment of mobile users another benefit is to provide a user-friendly experience to increase adoptability of full key-pad phones at faster pace.
The Alpha keypad is meant for those set of people, who are not familiar or comfortable with QWERTY key pad but aspire to have phone like this. Besides, individuals who require one-handed mobility will find this concept more helpful.
Specification in Details LAVA B5
·   A B C  Keypads with  QWERTY looks, Dual SIM, 2.2'inch QVGA TFT,E Mail support,
·   JAVA,MP3, MP4, FM,2Mega Pixels Camera,1400mAh Battery,Bluetooth
·   Memory – T Flash Card support upto 8 GB,3.5mm universal audio jack
Price: Rs. 4, 399/-