Jolla entered the Indian Smartphone market yesterday by launching the first Jolla Smartphone with its proprietary Sailfish OS. The company was created by ex-Nokia employees after the company abandoned its OS for Microsoft's Windows Phone OS.
Device specifications
The phone sports a 4.5-inch 960 x 450 display, 8-megapixel main camera and a 2-megapixel front camera and 16GB of internal storage. The phone is powered by a 1.4GHz dual-core Qualcomm Snapdragon processor and is backed by 1GB RAM. It has a replaceable 2100mAh battery, which, as claimed by Jolla, provides up to 10 hours of talk time. The phone is available in Poppy Red, Keira Black and Aloe colours.
As you can see, the device isn't as powerful as Android handsets available in that range. As a matter of fact, any Indian consumer would rather go for devices under Android One available at a cheaper rate, over Jolla's first smartphone.  However, Marc Dillon, Co-founder and Chief Operating Officer at Jolla, dismissed the importance to hardware specs by asking how many cores one needs to send an email. While the argument holds true, it needs to be seen whether the Sailfish OS operates smoothly under these specs and doesn't become a bloatware like Android over a period of time.
Secondly, the device itself is not that huge. With a 4.5 inch display screen, it's pretty tiny compared to other smartphones available these days, which can be a downer for many consumers who are used to large screens. Another downside is that it's pretty thick because of its smart back cover. In fact, the back cover gives the device a weird look as if two very think smartphones are stuck together.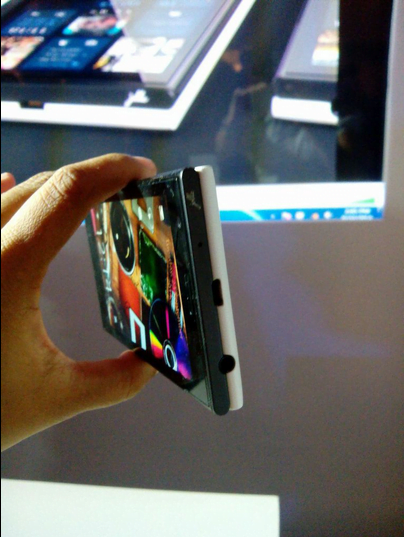 The display screen is just okay, nothing exceptional.
Privacy, Privacy & Privacy
One thing that Jolla stresses on is that it offers its customer privacy that Android doesn't. Google has been collecting user data for years through Android and monetizes this data by serving you targeted ads. Your devices gives Google a lot of information, such as at what time you get up, where you work, what your habits are and so on. Jolla claims that it will never collect user data and thus offer privacy that you deserve.
But do Indian consumers care? I don't think so. Ninety percent of the smartphone buyers in India don't care about privacy or rather are not aware about their privacy rights. Jolla needs to realize that India is a very different market than Finland, where the company is based at, when it comes to privacy right awareness.
Sailfish OS
The main selling point of the smartphone, however, is its Sailfish OS. Jolla claims that unlike other smartphone OSes, Sailfish makes it very easier to multitask. It displays four recently used apps as tiles on your front screen and you can swipe the screen right-to-left within the app to get back to your homescreen.
For someone who is used to Android or iOS, the Sailfish OS would look a bit complicated. One will have to unlearn and re-learn everything to get used to the OS.
So is it worth it?
For a price tag of Rs 16,499, definitely not. The device is more for Jolla fans and Hobbyists at the best.