Reliance Jio entered the Indian 4G space nearly five months ago, and the company pretty much is ruling the telecom market with no competition, as of now. Not only just free 4G internet and voice calls, but the new operator is also offering several digital content for free as well such as the JioMusic, JioCinema, JioPlay, etc.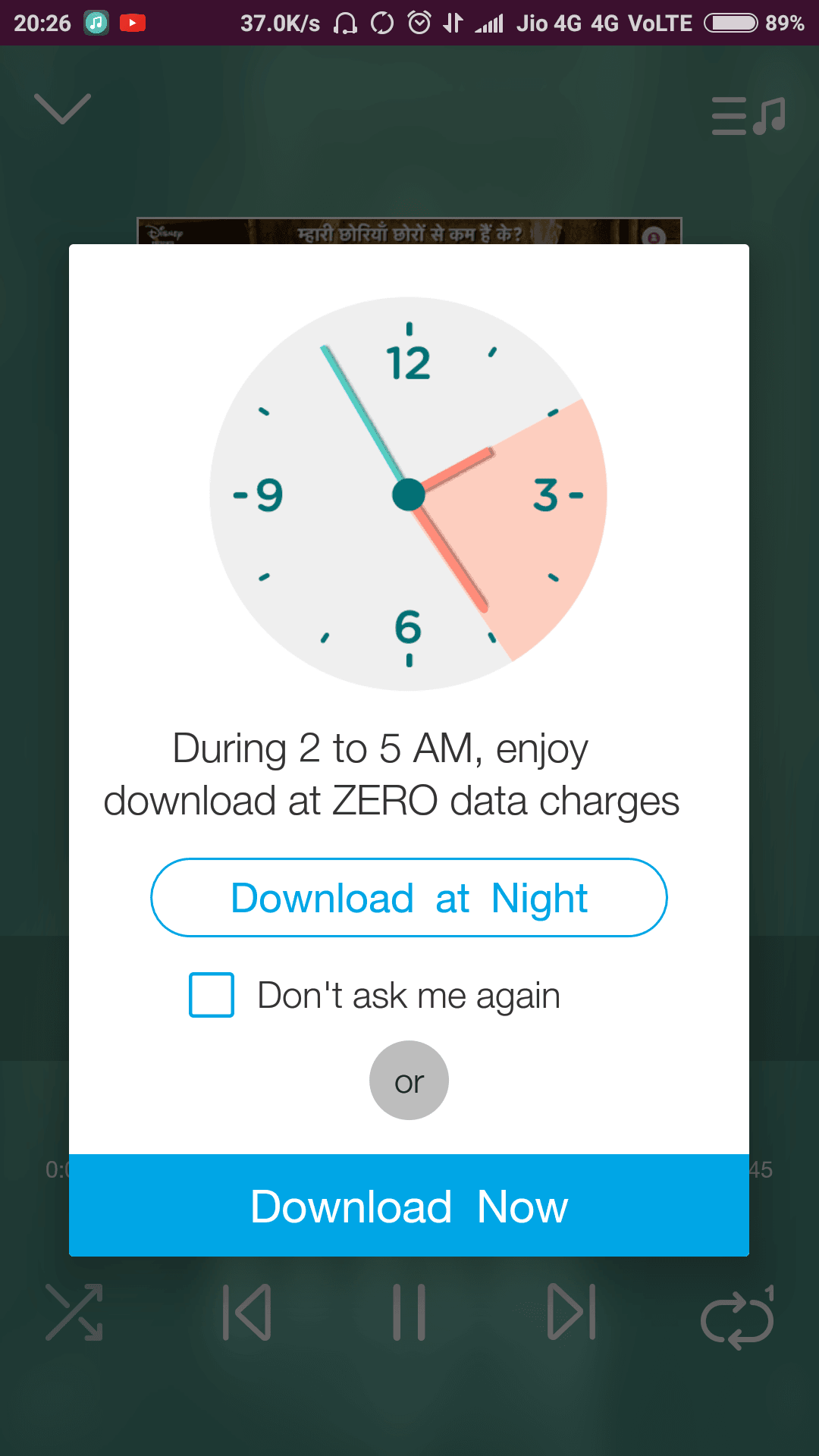 JioMusic, the company's standalone music has everything on offer. The service already has over one crore songs to choose from. Jio is consistently providing support with timely updates to the application.
In a recent update pushed officially by the company, there is a new feature that essentially saves your daily data limit. In the latest JioMusic application, whenever you try to take a song offline, a pop-up will arise saying that 'During 2 to 5 AM, enjoy download at ZERO data charges'.
Also, there are two options to choose from: Download at Night and Download Now. If you select the download at night option, then the application will automatically set up a reminder to download the song between 2 AM and 5 AM. If you choose the second option: download now, then the song will start downloading at that time itself.
However, there are some things to be noticed when selecting the download later option. For the song to download in between 2 AM to 5 AM, your mobile data should be turned on over night, and your phone should at least have 20 percent of battery.
We tested this feature, and it worked flawlessly. Nevertheless, we were super excited and downloaded the JioCinema application to check whether Jio has added the same feature to that as well. But sadly, there is no such feature for JioCinema.
Also Read: Do Idea and Airtel's additional 4G data for 4G handset offers are good enough to lure the customers?
It's good to see these sort of features from Jio officially and not allowing its users to not use any third-party schedulers to download the content between 2 AM to 5 AM. And, according to TRAI' speed test reports, Jio has improved a lot and is currently leading the chart with an average download speed of 8.9Mbps, which is a good thing to see.