InFocus has launched a range of smartphones, tablets, televisions, and feature phones in India today. The US based company is trying to strengthen its foothold in India.
The four smartphones unveiled by the company are — M812, M808, M550-3D and M370. All the four devices have been priced between Rs. 5,999 to Rs. 19,999. The M550-3D (in the image above) boasts "naked eye 3D technology", which enables users to view 3D videos without the requirement of 3D glasses. The device comes powered by a 1.7GHz octa-core processor coupled with 2GB of RAM along with 16GB of internal storage.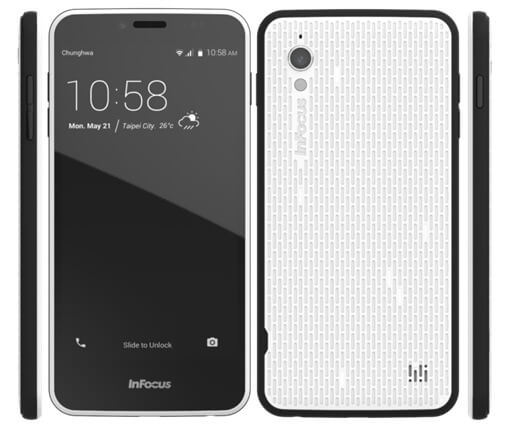 The InFocus M812 features an anodized aluminum unibody design, and is powered by a 2.5 GHz Qualcomm quad-core SoC paired with 3GB of RAM. There is 16GB of internal storage on-board and 13-megapixel rear camera. Similarly, the M808 (in the image below) is also crafted in Aluminum unibody and sports a 13-megapixel rear camera. Now, coming on to the InFocus M370 (in the image above), which is the cheapest among the four devices. It is powered by 1.1GHz quad-core SoC and features a well-textured back panel.
InFocus has unveiled three feature phones as well, named as F110, F120 and F135. These are basic phones with calling and music facility. Moreover, the company also launched a 10.6-inch hybrid tablet paired with a detachable magnetic keyboard. All the four devices will be available all over India from September.
InFocus M808 specifications (Rs. 12,999)
5.2-inch Full HD display with 1920 ×1080 pixels resolution
1.3GHz octa-core 64-bit MediaTek MT6753 SoC paired with 2GB RAM
16GB internal storage, expandable up to 128GB via microSD card
Android 5.1 Lollipop InFocus's Inlife UI on top
13MP rear camera with LED Flash and 5MP front camera
4G LTE, 3G, Wi-Fi, Bluetooth 4.0, and GPS
2450mAh battery
InFocus M812 specifications (Rs. 19,999)
5.5-inch Full HD display with 1920 ×1080 pixels resolution
2.5GHz quad-core Snapdragon 801 SoC paired with 3GB RAM
16GB internal storage, expandable up to 64GB via microSD card
Android 5.1 Lollipop InFocus's Inlife UI on top
13MP rear camera with LED Flash and 8MP front camera
4G LTE, 3G, Wi-Fi, Bluetooth 4.0, GPS, and USB OTG
2900 mAh battery
InFocus M550 3D specifications (Rs. 15,999)
5.5-inch Full HD stereoscopic 3D display with 1920 ×1080 pixels resolution
1.7GHz octa-core MediaTek MT6752 64-bit SoC paired with 2GB RAM
16GB internal storage, expandable up to 128GB via microSD card
Android 4.4 Kitkat with Inlife UI on top
13MP rear camera with LED Flash and 5MP front camera
Dual SIM, 4G LTE, 3G, Wi-Fi, Bluetooth 4.0, GPS, and USB OTG
3100mAh battery
InFocus M370 specifications (Rs. 5,999)
5-inch HD display with a resolution of 1280 × 720 pixels
1.1GHz quad-core Qualcomm Snapdragon 210 SoC paired with 1GB RAM
8GB internal storage, expandable up to 64GB via microSD card
Android 5.1.1 Lollipop with Inlife UI on top
8MP rear camera with LED Flash and 2MP front camera
dual-SIM, 4G LTE, 3G, Wi-Fi, Bluetooth 4.0 and GPS
2230mAh battery