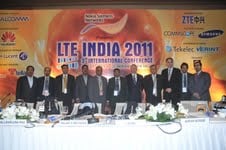 India is all set to move on from 3G to 4G, technically known as Long Term Evolution in mobile broadband, leading industry and technology experts said at LTE India 2011 international conference organized by Bharat Exhibitions today.
"With mass adoption, lowest cost per bit, highest capacity, best user experience and a true global standard, the world is stepping into 4G expecting 380 million LTE subscribers and 80 plus LTE networks by 2015" said Mr. Sujit Bakre, Nokia Siemens Networks head of 4G business development.
Bharti Airtel VP for networks Mr. Puneet Garg put 2012 as the year of "next step towards a broadband wireless revolution using LTE" that "will change the way people connect to communicate" Bharti Airtel was ready for this change over, he said.
LTE or 4G would be a smooth transition using core set up of the 2G/3G networks, several experts emphasized at the conference, a transition "dramatically matured". Already with globally 18 launches with 208 network commitments, the 100 Megabits per second LTE service was described by several experts and operator executives as providing a "unique consumer experience". Worldwide trials had already started in 2010.
In China large scale trials had been started by China Mobile. In India Qualcomm and Huawei had set up a trial network in Hyderabad. "It is an opportunity for India to telescope change but the technology would support only four or five operators provided they have a pan India reach" according to Mr. Mallikarjuna Rao.
Mr. Amaru Chavez Pujol, Group CTO of Etisalat, a multi-continent operator company, defined LTE as a "strong and well-defined data interface that promises a new reality".
Warning that India could not afford to miss the universal broadband overage, "a single most imperative in this country to take our nation forward "Shri Rajan S. Mathews, director-general of Cellular Operators Association of India said auction was not the best way for the national imperative move forward.
Defining a new take on the widely acclaimed auction route Mathews pointed out this route was shifting a vast amount of resources from the private sector to the government sector and to restore the balance of dynamism in the spread of mobile broadband it was necessary to bring that money back in the service of the spread and reach of the telecom-broadband networks. He suggested greater active infrastructure sharing, operator efforts to determine and invest in what the consumer really want and a greater attention to local language services for success in India of the broadband revolution sweeping the world.