China based mobile and telecom equipment major, Huawei Telecom today announced the launch of new low cost Android based smart phone 'IDEOS' in India.
IDEOS will run on the latest iteration of Android 2.2 (also known as 'Froyo') and it has a 2.8-inch 240×320 capacitive touchscreen and 3.2 mega pixel camera, brightness, proximity and accelerometer sensors and powered with a 528 MHz processor.
The ergonomically designed IDEOS provides a variety of ways to access the Internet, as it boasts downlink speeds of more than 7.2Mb/s, offers UMTS/WCDMA + WiFi dual network support, and offers ubiquitous mobile broadband services. The device also doubles as a WiFi router for up to eight devices at a time, making IDEOS an all-in-one solution for a range of wireless connectivity options.
Available in black, yellow, blue, and purple, the IDEOS, with Android 2.2 pre-installed, not only runs fast, but also supports functions such as voice dialing, voice navigation, and the ability to run applications off the SD card. With more than 70,000 applications available in the Android Market, IDEOS provides a wide range of communication, entertainment, office, and financial management applications.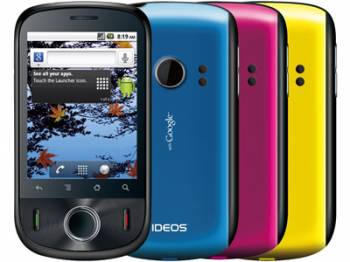 The connectivity options also include Bluetooth and navigation (GPS) support. The handset will be available in the Indian markets by Nov 2010 and will be priced around Rs7000 to Rs.8000 approx.
Kevin Tao, CEO of Huawei Device, said, "We are proud to have already achieved our goal from early 2010 of developing a US$150 smartphone with an excellent user experience. The IDEOS is an affordable option, designed to lower barriers to entry to allow easy mobile Internet access."