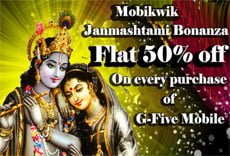 Mobikwik.com , One of the leading online recharge company has extended its services by launching an online gadget store for their consumers.
They have launched their brand new gadget store with G-Five mobile phones, which is the third largest mobile phone manufacturing company in the whole of India and the largest mobile phone company in the rural parts of India such as Madhya Pradesh, Uttar Pradesh, Bihar, etc.
Mobikwik is offering a flat 50% discount to all Telecomtalk readers on Janmashtami. For example, if you buy a mobile phone worth Rs.2000 at Mobikwik.com on 22nd August 2011, you'll get a free Mobikwik balance of Rs.1000 on 23rd August by 11 pm. Using that 1000 rupees you can recharge any mobile phone including friends, family etc.
The best thing about G-Five mobiles is their cost which falls in the price range of Rs.1000-3000 and the features which they have such as Dual Sim, Front and back Camera, Live Tv and Qwerty keypad which are only available in the mobile phones 4-5 times their price.
As Mobikwik believes in complete customer satisfaction, they are providing free shipping of these gadgets anywhere in India within 3 working days. So whether you live in Kashmir or Kanyakumari , these gadgets will reach your doorsteps within no time.
Link to buy GFive Phones - www.mobikwik.com/buyPhone.do