While majority of the OEMs and tech giants are busy catering to the mid-range and high-end smartphones, Firefox is slowly trying to build itself a fan following of its operating system Firefox OS. The operating system is meant for entry level smartphones whose pricing is at par with low-cost feature phones. The thought behind the OS is to help people make the shift from feature phones to smartphones.
The first crop of Firefox OS based smartphones launched last year in India within a price range of Rs 1,999 to Rs 2,299 and it looks like that the second-generation of the same is starting to get launched in the country. The Spice Fire One Mi-FX2 smartphone has quietly gone on sale in the country for Rs 2,799 through the online e-commerce portal Saholic.com. Let us take a look at what this one offers: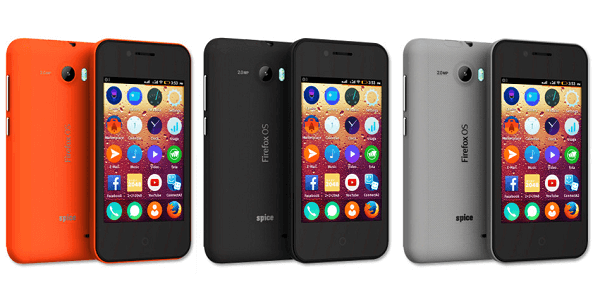 Spice Fire One Mi-FX2 specifications
3.5-inch display, 480 x 320 pixels
Firefox OS 1.4
1 GHz single core processor, 256MB RAM
2-megapixel rear camera with LED flash, 1.3-megapixel front camera
512MB of internal storage, expandable by 32GB with a microSD card
Dual SIM, 3G, Wi-Fi 802.11 b/g/n, Bluetooth 3.0, aGPS, FM Radio
1,100 mAh battery
The Spice Fire One Mi-FX2 has been made available in a choice of three colours. These are orange, silver and black. It is not like there is much of a competition available at this price point and the device has to primarily go up against feature phones and has a spec sheet decent enough for taking them on.