On November 8, Prime Minister, Narendra Modi announced the groundbreaking news that Rs. 500 and Rs. 1,000 rupee notes will no longer be valid in the country. And, at the same time, he gave citizens the time period of 50 days to deposit or exchange the notes for new notes at banks.
After the announcement, digital payment wallets took to social media to educate customers on how they had nothing to worry about and how it was time to go cashless! One outstanding service, which has captured customer's hearts and minds has been Paytm. Yes, the Noida-based startup has seen a tremendous growth in their app downloads after the demonetization announcement.
A week later, the digital wallet app updated their Android and iOS applications to make users understand the features of the application more clearly. They launched a new nearby feature, which shows you nearby vendors where the payment from Paytm can be accepted.
The user interface is very easy and straightforward to understand, but first time users may want to know more about all the features the app has to offer. So, here's a brief guide on how to download, setup, add money, pay, and send money quickly and seamlessly on Paytm.
What is an eWallet?
The most heard word in the last 20 days: eWallet and Digital Wallet. Even PM Narendra Modi is urging people to use these eWallet services. What essentially does that term means? eWallet technically removes of the hassle of carrying the cash with you. Instead, you can load up your money from your debit/credit card into that particular application and use it whenever you're purchasing something.
Take a look at what has to offer Paytm to smoothen your way to a cashless life…
What is Paytm?
Founded as an online recharge portal, Paytm is now one of the most used digital wallet apps in India. Almost every citizen with a smartphone today using the Paytm service, which is a great thing. What is it? Paytm allows you to store money in it and later on, you can pay the money to anyone by transferring the cash into their wallet. This removes the hassle of carrying cash with you.
As of now, Paytm is available for all the mobile platforms including Android, iOS, and Windows Phone. Here's how you can get started with the application…
How to Download the Paytm App?
It's so easy. If you're an Android user, head over to the Google Play Store and search for Paytm app and tap on install. Wait for the application to install in your phone completely. If you're a user of Apple, you need to head over to App Store and search for Paytm and tap on 'Get'.'
How to Add Money/Send Money/Pay Money?
To get started with Paytm, every user has to register an account with the service. For that, you need to submit your mobile number and email address (optional) to get an account on the platform.
After you're done with registering an account with the service, you now have to add some money to the service. You can add money from either your debit/credit card or via net banking. Do make a note that, you can pay to someone only after loading some money onto your account.
One of the best features in the service is that you can send the entire amount to your friends or family members with just one tap. All you need to do is go to the send money option on the home screen and enter the Paytm registered mobile number to send money.
Also Read: PayTM Launches POS (Point of Sale) Feature On App To Enable Card Payments For Small Vendors
Now, the biggest question is, can we use Paytm for offline payments? Yes, absolutely. That's the major feature of this service. At the time of paying to the merchant, you can either ask them to enter your mobile number to pay. However, an OTP will be sent to the provided mobile number, and after entering that OTP, your payment will be successful.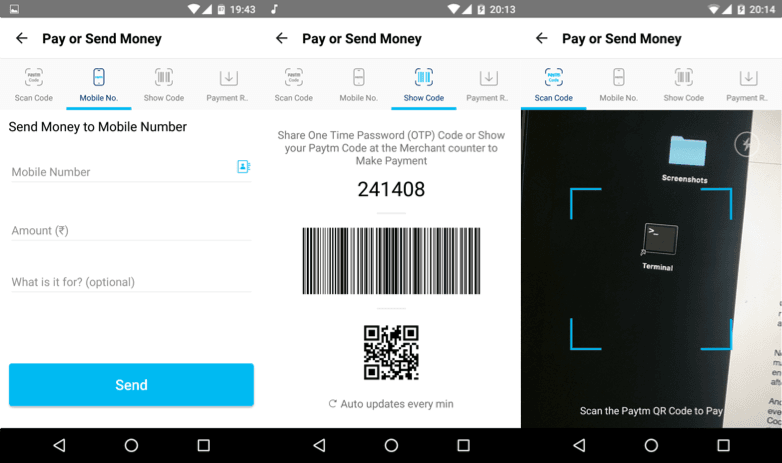 Another way to pay to merchants is by showing your barcode, which is automatically generated every minute in the application itself. To find the barcode, you need to head over to 'Pay> Show Code'. One more way whenever you're online is that, scan the barcode of the merchant to process the payment easily.
What are the different ways in which users can use Paytm in their daily life?
In recent times, Paytm has partnered with many people close to you. Starting off with the core feature of Paytm, everyone can use the service to recharge their number. Furthermore, users can pay for merchants whoever accept the payment mode as Paytm. We have already listed the procedure of doing that in our previous step.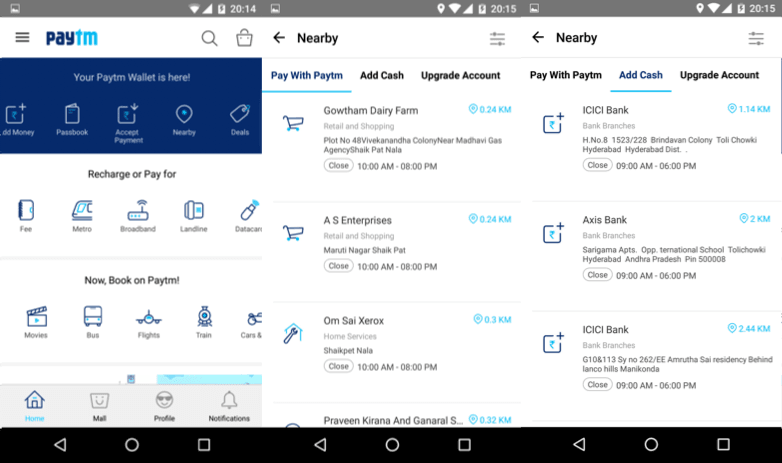 In the latest update, Paytm has added a new feature called 'Nearby' with which every user can track their nearby places where the payment mode is accepted as Paytm. To search the nearby places where Paytm is accepted as payment method: just open the application, and you can see a button on the home screen itself as 'Nearby'. Just click on that, and you will be shown your surrounding places where Paytm is accepted as Paytm. For this feature to work, location services in your mobile should be turned on all the time.
Apart from these services, you can use Paytm wallet to book movie tickets, pay the electricity bill, pay your children' school fee (some areas of India), book flight, train tickets, etc. All these features can be accessed from the Paytm app itself.
How to return money to your bank account?
Another big question after loading money to your Paytm account is that: can I transfer the money back to my bank account? Absolutely, Yes. The digital wallet service allows you to send money to your bank account with one tap. With the latest update, this feature has embedded into the passbook menu on the home screen. After hitting the passbook screen, you can see the send money to bank option, just hit and provide your bank account details. The money will be transferred to your bank account within seconds.
Paytm, after the announcement of demonetization reduced the transfer money charge to bank account to zero percent from the previous four percent transfer charges.
So with Paytm Karo as your battle cry, head out to the world and get everything you need with just a tap on your Paytm app!
For more info, or if you have any questions, check out this link