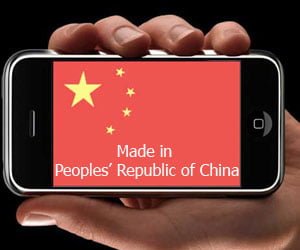 "They're with the labourers, also with the kids, they're with the elite, and too with the freaks!" Yea, you must have seen them almost everywhere, almost every class of people carrying them. If you're still wondering, they are Chinese cellphones. Nothing has invaded our "connected" lives in so convincing a fashion in every possible form. Yet, most of us are sceptical whether to buy them or not.
This article will try to take on points regarding those Chinese phones ("masterpieces" as one might call them cynically, I call 'em "souvenir of advanced Chinese technology", LOL) and help you decide if you want to really go for one of them, holding back your fascinations on the ones from Nokia or other reputed stables.
How much do these cost?
Undoubtedly, as all of you know, these things are real cheap, I mean dirt cheap. The value for money one can derive is awesome compared to reputed branded handsets costing 3-10 times a Chinese phone. Once I was chatting with the sales manager of a Chinese phone manufacturer. He quoted that its the cheap labor and economies of scale that they can produce tri SIM mid-range handsets for $40 (<Rs.2000) at their factory. Normally those sell for $80 after being passed on to distributors and retailers including import/export fees. Low end basic ones might cost $15 to produce there, who knows?
The main market for Chinese phones here in India is considered to be the rural areas with low per capita income but with the need to go mobile at lowest costs. The basic Chinese handsets (<Rs.2000) sell really well and are being dumped in truckloads to every nook and corner mobile shop, really, and its like free food to them. Urban market is bit different and clocks good sales of mid and high range Chinese handsets. (>Rs.2500) If going mobile with good features at minimum cost is the concern, nothing beats these Chinese mobiles.
For the net savvy, a real wide range of chinese mobiles is on sale at eBay.in; go have a look, you'd be blown away!
What about features?
Feature wise, there is hardly anything to complain of, the Chinese cellphones boast of plethora of jaw-dropping features. Most mid to high range models can shout out their support for mid-resolution camera, A2DP bluetooth, expandable memory, dual (even tri) SIMs, multimedia capability, touch screens, analog TV and what not! Even basic low end ones boast of bigger screen, dual SIM support, expandable memory, FM radio, basic camera, powerful multi speakers and EDGE/GPRS. So, the end user is just left baffled whether to get a Chinese phone or a reputed brand handset which might not have half of the features at a far higher price.
Feature wise, they get the plus point too… but one concern, they generally use very common low end CPUs (Mediatek, Infineon, etc.) with lower clock speed and a very common UI (nucleus OS generally) and might be buggy. Don't expect spontaneous response after you hit the keys or excellent multimedia experience (especially videos) due to their hardware and design constraints. "You get what you pay for", But these Chinese handsets seem to have the tags on then yet are not performance kings; "Jack of all trades, master of some!". Firmware updates can be a pain and might not be possible at home.
People have claimed non-standard manual GPRS settings are required and issues with java applications.
Quality? Looks?
Quality wise you can find a lot of differences among various brands and models. I have come across very poorly built ones as well as sturdy ones what seems to be solid when felt in hands. Check if the plastic is poor or gives creaking sound when pressed bit hard in hands; if the various edges and joints meet or there's some gap in them. Mostly the lesser known Chinese brands seem to have flimsy quality and should not be considered. Screen LCD quality is an issue and might not be of good quality even though resolution is good.
Camera is mostly always basic VGA (even though printed higher megapixel), so check it yourself. Be ready to face some useless Chinese menus and applications and lack of drivers, PC suite or CD. Network reception can be sometimes poor due to bad design and alignment of internal antennae. Also, the supplied batteries are mostly junk, not upto their rated capacity. Most have weird connectors for earphones and data cable, so compatibility with aftermarket accessories is a real pain! Supplied accessories are cheap and flimsy most of the time. Speakers can be too loud for people around you to digest, so play music responsibly!
Looks? Ah, yea… heard it matters a lot in the law of attraction! Anyway, most models look damn cheap, either very plasticky or too shiny (reminds me of Chinese FM radios and walkmans on footpath vendors). Even some have a lot of speakers at the back (yuck!) or logos of features supported (bluetooth, camera, multimedia) and stupid text like vaio, bluetooth phone, digital camera and what not; I'm simply pissed off if I see those. But all is not lost, if you hunt around, there are real gems in the dustbin which look and feel good and at par with reputed branded phone models.
Reliabilty? Warranty? Certified?
Now here comes the bummer… Nobody knows how reliable your Chinese phone can be. Sort of a luck test. While some report them running flawlessly for years while some have seen them failing in under a month. One tip: avoid dropping these phones, cause they are very fragile and can get into pieces on a single drop! Take good care just like other phones (keep away from dirt, dust, grime, moisture) and you'd do it some justice. The shiny silver paints can wear off soon and plastic can crack, LCD can show banding and what not! Its not a Nokia 1650 to bear rough handling yet obeying you like a faithful servant!
Most are not available with a warranty, but these days the market is being flooded with "Indian branded" Chinese phones with warranty; basically they are bulk importers (simoco,spice,zen,lava,onida,intex,etc.) and just rebrand those phones with warranty. Buying one with warranty is a good decision, but I wonder how good their servicing network is. So, the end result is more or less the same. Most neighborhood shops these days do service Chinese mobiles provided they are common models. But in my opinion, if they break, rest it in peace and move on… don't spend on it unless its a minor fault. Got to have faith in "use and throw" Chinese psychology!
Certification…ah, most cannot boast of it. Even though they might carry tags like FCC, CE etc. I wonder if they have really passed those tests. Many people are concerned about their radiation levels (SAR) and relate them to hazardous devices that can cause harm to our brain. Even though they are made in China (like most top branded phones, Nokia, etc) the concern is quality control and standards compliance. These days I see Indian branded Chinese phones carrying the ICA hologram (like on Nokia's). Now laymen users don't have the means to benchmark their radiation, etc. levels, they think these are hazardous, which might not be true in every case.
Clones of the clones of the clones?
Yea, clones, why do I stress on the word 3 times above? Cause the Chinese mobile industry believes in cloning popular branded models. But underneath the case, all is the same basically, same old UI and underpowered hardware. Hope you have come across cloned iphones and Nokia N series (logo'd NokLa, hiPhone, etc.). It just doesn't stop at cloning the master model once, but multiple times, by different companies… who was the first who cares, they clone the clones and again, with quality deteriorating on every cloning. Seems like a never ending blackhole, isn't it? Ha ha, so if you're buying a cloned iPhone for instance, research on the model you plan to buy and see if its just the clone (original sciphone) or clone of the clones (i9+++, mini iphone, hiPhone etc.)…
What about fake IMEI and GII stuff floating around?
Of late there has been a general perception that Chinese phones don't have a valid IMEI number and is a security risk to the country. Not all phones are having such defects, but only a few, apparently batches from the very lesser known Chinese manufacturers. Either they keep the IMEI field blank, fill with 0's, duplicate or some junk number. Telcos have been issued notice to stop service to those handsets and deadline is November 30th.
Currently most Chinese phone on sale claim to have genuine IMEI (atleast on eBay) and can pass the DoT test. Those who have been duped and left with invalid IMEI can take advantage of the Genuine IMEI Implant program by visiting designated service centres and get their handset's IMEI validated at a token price. Always check the IMEI on back sticker and by pressing *#06# before buying any Chinese handset.
Last words
Most reputed cellphone brands are concerned about the huge number of Chinese handsets being dumped in India and their gaining market share and popularity, mainly in the rural areas. It is almost a cottage industry there in China with lots of unknown manufacturers coexisting with real and well known manufacturers. Sometimes they are the OEMs (Original Equipment Manufacturer) of leading global brands, producing according to their specifications!
Personally, bought myself a real sciphone S18 off ebay at Rs.3000 only (7 days used, sold as he left for S.Korea where there is only CDMA) cause I needed a dual SIM phone and I'm not disappointed. It's not easy to get real sciphones (mysciphone.com) here in India as most sell fakes (or clones of the clones). Overall, they are good gambles to take, considering their features and value for money, but buy the good ones from the "crap" herd. If you're asking dual or tri SIM, none of the leading reputed brands will have something for you, even if they do, they are way overpriced. These are good as secondary phones, but I suggest primary one be a leading reputed cellphone brand.
Not all Chinese handsets are good and not all are bad; be informed, check reviews, specifications, feel it physically in hands if possible before committing. Learn to make out the flaky ones, clones of the clones and apparently buggy ones, the power of internet is at your disposal, make full use of it, cause in the end, the informed buyer wins!
By: Agnivo Roy
comments are welcome!
like to share a story with us ?
email us [email protected]

Drop a mail at news @ telecomtalk dot info