India is already suffering from the evil of call drops due to the lack of sufficient spectrum and also due to lack of sufficient number of telecom towers. The telecom operators are investing heavily in setting up of newer base stations to improve coverage and lower the call drop rates.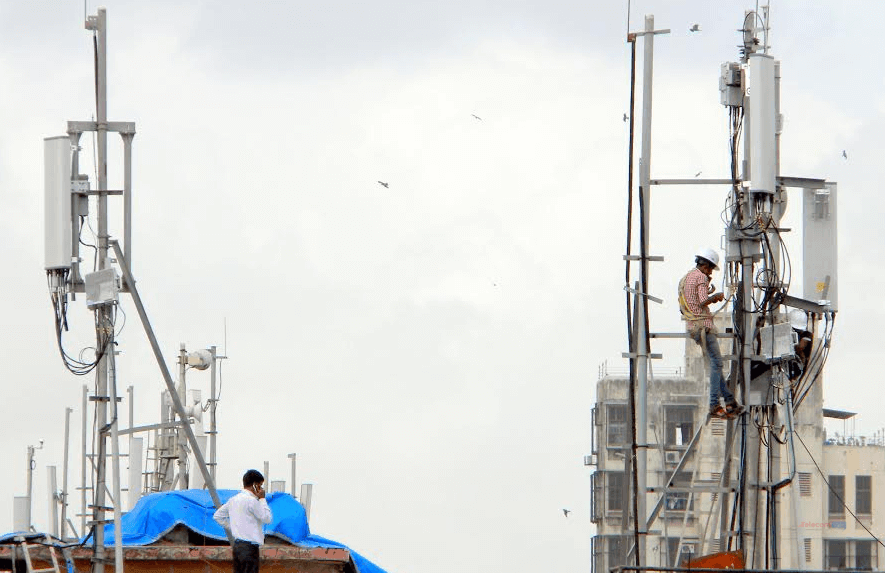 But there is also a group of social activists who claim that telecom towers are adding to the level of radiation in the environment which can promote the incidence of Cancer among the resident population of that geographic area.
These groups are petitioning against the setting up of towers in public places as a result of which the Municipal corporation of Delhi has sealed a number of base station sites and is still continuing to do so on a regular basis. But truth be told, there is no scientific backing to the claims of these groups and there is no concrete research based evidence that shows that cell phone radiation causes increased risk of cancer. Also India is a country that has the most stringent regulations for levels of radiation in the whole world.
On friday the CEOs of six leading telecom operators in Delhi namely Airtel, Vodafone, Idea, Rcom, Tata and MTS wrote a joint letter to Mr. Rakesh Garg, the secretary of DOT and chairman of Telecom commission and Mr. R.S. Sharma the chairman of TRAI, regarding this issue and requesting them to intervene in the matter and instruct the municipal corporation to stop sealing the sites immediately and not take any action while litigation on the matter is still underway.
A copy of the letter was seen by TelecomTalk and read as follows.
Respected Sir,

We are grateful for the efforts of DoT and TRAI on working with us to address call drop issues. As we committed in the meetings, we have put and will continue to invest in Base stations and electronics in 2G, 3G and 4G to provide good customer experience. Lot of resources have been put into optimization as well.

We also initiated discussion with local MCD authorities to find resolution to tower sealing. However, while the discussions are underway and there is litigation in progress, the MCD continues to seal sites on a continuous basis.

Hence we are constrained to bring to your notice that despite your good efforts and intervention to assist the Operators deal with the issue of call drops, this continuing unilateral activity of the Delhi Municipalities of sealing our cell sites will cause increase in call drops and inconvenience to consumers.

The consumers and Industry are suffering due to these unilateral actions and are unable to deal with the almost daily shut down of cell sites. While on the one hand the industry has stepped up investments in technology, in spectrum, in people and in a range of automated tools for network optimisation to improve networks, these actions are making the entire effort and investment futile.

The Industry has been mandated by your good-self and the Hon'ble Prime Minister to ensure no call drops, but the MCD actions are at cross purposes with this objective and hamper the efforts of the industry to address the issue. It must be noted that with every 40 sites being
sealed, there is an average of 20% increase in call drops. In the last two days itself, the MCD has gone ahead and sealed 16 sites across Delhi. In the last month 70 sites have been sealed. Similarly, sites have been shut down in Mumbai also due to arbitrary actions by
municipal corporation and RWAs. In the last year alone, about 1700 sites have been shut down all over India.

We believe that the local bodies should act in consonance with the constitutional principles of the larger public interest and in alignment with the larger vision of the Government of India. In many instances, the MCD has been sealing the Telecom Towers despite operators having the due permissions and / or after having encashed the requisite fee. Further, the orders of the Hon'ble Delhi High Court to not seal the sites where there are due permissions have been ignored. Further, the sealed sites ordered by the High Court to be de-sealed have also not been done.

While we continue to seek legal redress and dialogue with MCD through COAI, AUSPI and TAIPA, we request your urgent help and intervention in de-escalating the situation. We request that all the sites which have been sealed in the last few weeks be de-sealed to ensure call drop issue is immediately improved.

In the meantime, we shall continue our investment and optimization program. We are hopeful that with your kind support, we will find immediate relief of de-sealing sites and through dialogue find lasting solution to this issue.
Signed by- Gopal Vittal, Himanshu Kapania, Sergey Savchenko, Gurdip Singh, N. Srinath and Sunil Sood.
Also read:  Call drops: Maximum complaints against Airtel, followed by Vodafone
Whom do you favour in this case, the Municipal corporation or the Telecom operators? let us know your views and opinions through your comments below.