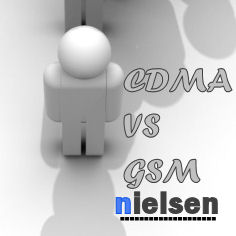 The Nielsen Consumer Experience Mobile Test program, which measures wireless network performance of all national and select regional carriers, has successfully completed testing 39 markets for the Phase I of its program (2008-2009).The Nielsen survey studied differences in Data Network performance between CDMA and GSM technologies.
It was observed that CDMA technology has a distinct edge over GSM across all of the top six Data Network performance metrics. CDMA Operator network ranks #1 in HTTP Download Data Rate performance in 7 out of 8 metros tested.
The second phase of Nielsen Consumer Experience Mobile Test program is scheduled to commence soon and will include an expanded scope of markets and features.
Nielsen has also completed the test of the data networks in the top 8 metros in India, which reveals an even starker picture of Data network performance in the country. The variation in performance of Data network performance between the market leader and the market average in the Tier I markets creates a bigger and better opportunity for differentiation, especially given the upcoming roll out of 3G networks and the big effort from operators to increase revenues from VAS.
When the top 8 metros were assessed for average performance against the six most important data network performance metrics, it was observed that Ahmedabad had some of the best average performance rates.
| | | |
| --- | --- | --- |
| Average performance Metric | Best | Worst |
| Average Connect Success Rate | Ahmedabad | Mumbai |
| Average Data Rate | Ahmedabad | Bengaluru |
Table 1: Best and worst average performing metros for 6 most important data network performance metrics
* Metrics related to HTTP/Upload as applicable
Though CDMA technology has an edge over GSM in both Voice and Data network performance in India, only about 62 percent of new acquisitions (acquired in the last 6 months) among CDMA players are likely to consider their existing service provider as their next choice. More importantly a third of them (33%) are likely to consider a GSM brand as their first choice as according to the respondents it delivers better on both network and price.
This trend in perception between GSM and CDMA operators will have an implication on driving customer acquisition, retention and usage initiatives like VAS and 3G which will be used as a means of differentiation. Mobile Number Portability (MNP) will further catalyze this impending market sentiment. The CDMA operators should leverage their inherent network advantage to drive consumer perception of their network said Panchapakesan