The test report released by the Telecom Regulatory Authority of India (Trai) indicates that most of the operators are not adhering to the prescribed benchmarks for call drops and state-run MTNL is the worst performer in Mumbai and Delhi circles.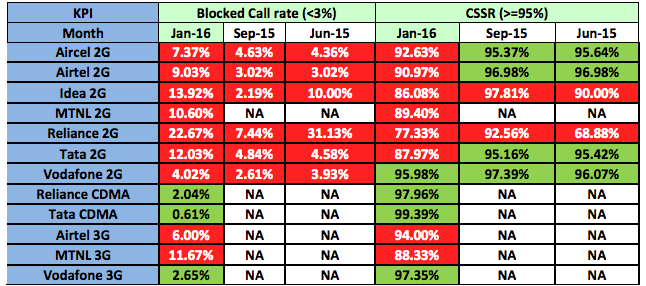 For Mumbai and Delhi, the route length was increased to 600 Km after taking inputs from the telecom service providers about the additional routes and it was found that MTNL 3G network reported call drop at 15.58 per cent level in Mumbai and 23.65 per cent in Delhi.
The regulator said that none of the telcos showed improvement in call drops in Mumbai, Pune and Bhubaneswar as more than 2 per cent calls on a telecom operator's network got automatically disconnected.
The drive tests were conducted this time not only for 2G networks, but 3G networks too and the results were conducted to assess the network condition more specifically in terms of Radio Frequency Coverage, Rx Quality, Call setup success rate, call drop rate, blocked call and carrier to interference ration.
In Delhi, Airtel, Vodafone and Idea showed compliance to call drop benchmarks. Trai also pointed out said that CDMA players have achieved the benchmarks prescribed by it in some of the circles. However, in Bhubaneswar, most of the operators failed the tests and maximum call drops were seen on Aircel's 3G network and on RCom's 2G CDMA network.