BSNL has unveiled a new promotional plan for its prepaid customers in Tamil Nadu at Rs. 269 providing both voice and data benefits. However, this plan is valid only for 21 days. Perhaps, BSNL is planning to compete with the private telecom operators low-cost data validity plans with this new offering.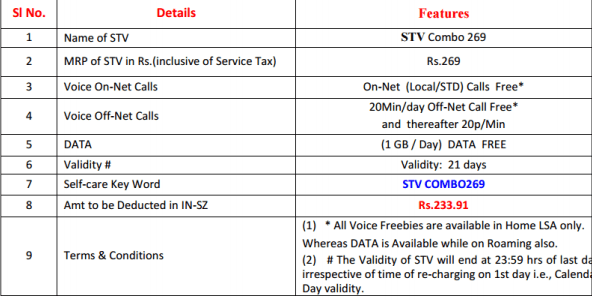 The name of the plan is STV Combo 269, and it will be effective in Tamil Nadu circle starting May 17, 2017. Under the plan, BSNL is offering unlimited on-net calls along with 20 minutes of off-net calls. After the completion of allotted 20 minutes, users will be charged at 20 paise/minute for off-net calls.
Besides the voice calls, the plan also provides 1GB data per day for 21 days. Post the 1GB data, the speed will be reduced to 128 Kbps. Furthermore, the voice calls are limited only to the home network, while the data is valid while you are on roaming as well. The new plan will be valid for 90 days from May 17, i.e. from tomorrow. After 90 days, BSNL will modify the plan based on the market scenario.
All the BSNL users of Tamil Nadu can activate the scheme via C-Top-up, self-care portal or from the web portal. As said earlier, this new plan from BSNL is to counter the Airtel's Rs. 244 plan, and Idea's Rs. 297 plan.
However, Airtel and Idea's plans offer more benefits than BSNL. For the uninitiated, under the Rs. 244 plan, Airtel is providing 1GB data per day, and unlimited Airtel to Airtel calls for 70 days. The same applies for the Idea's Rs. 297 plan as well since it provides 1GB data per day and unlimited Idea to Idea calls for 70 days.
All BSNL Network - Local/ STD (mobile / Landline) unlimited voice calls are free while in home circle only. In Roaming voice benefits only will not work, DATA benefits will work even in Roaming. It's a bit disappointing that BSNL made this new plan available only for Tamil Nadu circle. Currently, there's no info on whether the company will roll out the scheme to other circles or not.