BSNL the largest PSU telecom operator has today announced the launch of new roaming rate cutter packs for its prepaid subscribers on a Pan India scale in all 20 circles where it currently operates.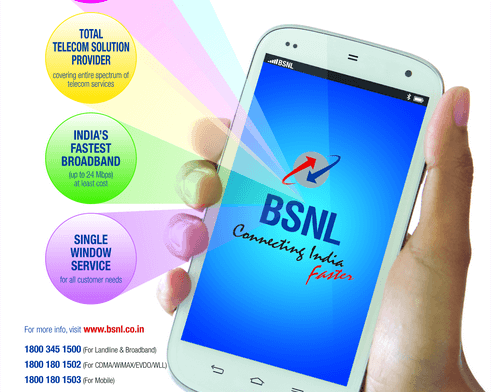 The operator had recently made incoming in roaming free by default for all its subscribers which was a path defining move in the history of Indian telecom sector  and a move which ensured BSNL added the most number of new wireless subscribers in the month of July 2015.
BSNL has launched the roaming STVs in three denominations with different validities. All packs give local and STD calling to both on-net and off-net landline or mobiles at 70p/min in conjunction with the prevailing free incoming. The single day validity pack comes with a denomination of Rs.11(+/-2), the 6 day validity pack comes with a denomination of Rs.32(+4) and the 28 day validity pack comes with a denomination of Rs.77(+2). All packs will be available from 7th September onwards in all 20 circles where BSNL operates.
The zone wise tariff details of the roaming STVs is given below:
BSNL New Roaming Special Tariff Vouchers to Make Cheapest Out Going Calls in Roaming

Details of New Roaming STV

Validity

East Zone

South Zone

West Zone

North Zone

Outgoing (Local & STD Any Network) Calls in roaming @ 70 paise / Minute

1 Days

Rs 11 (+2) *

Rs 9

Rs 9

Rs 9

6 Days

Rs 32

Rs 33

Rs 33

Rs 36

28 Days

Rs 79

Rs 79

Rs 79

Rs 77

The pack will be available from 07.09.2015 on PAN INDIA basis

BSNL Zone Details

East Zone

Andaman & Nicobar, Assam, Bihar, Jharkhand, Kolkata, North East I, North East II, Orissa & West Bengal.

South Zone

Kerala, Tamil Nadu, Chennai, Karnataka & Andhra Pradesh.

West Zone

Gujarat, Maharashtra, Madhya Pradesh & Chhattisgarh.

North Zone

Punjab, Haryana, Himachal Pradesh, Rajasthan, Jammu & Kashmir, Uttar Pradesh (W), Uttar Pradesh (E) and Uttaranchal.
TT perspective:
The free incoming in roaming initiative by BSNL is no doubt an attractive offering but these roaming STVs are not exactly cheaper than the ones being provided by private operators.
Reliance communications for example provides free incoming in roaming for 30 days along with calling tariff for all local and STD, on-net or off-net, landlines or mobiles at 40p/min with denomination in the range of Rs.42-56, in contrast BSNL provides calling tariff of 70p/min with denomination of Rs.77(+2) that too for 28 days. So readers are advised to compare the offerings of all operators in their circle and then select the plan which suits their needs best and is the most economical.