As a part to upgrade customers on 4G network ; country's largest mobile operator Bharti Airtel has now launched 'Easy SIM Swap through mobile app'. With this new feature, Bharti Airtel's both prepaid and postpaid customers across all circles can easily upgrade their SIM to 4G supported USIM through company's My Airtel app.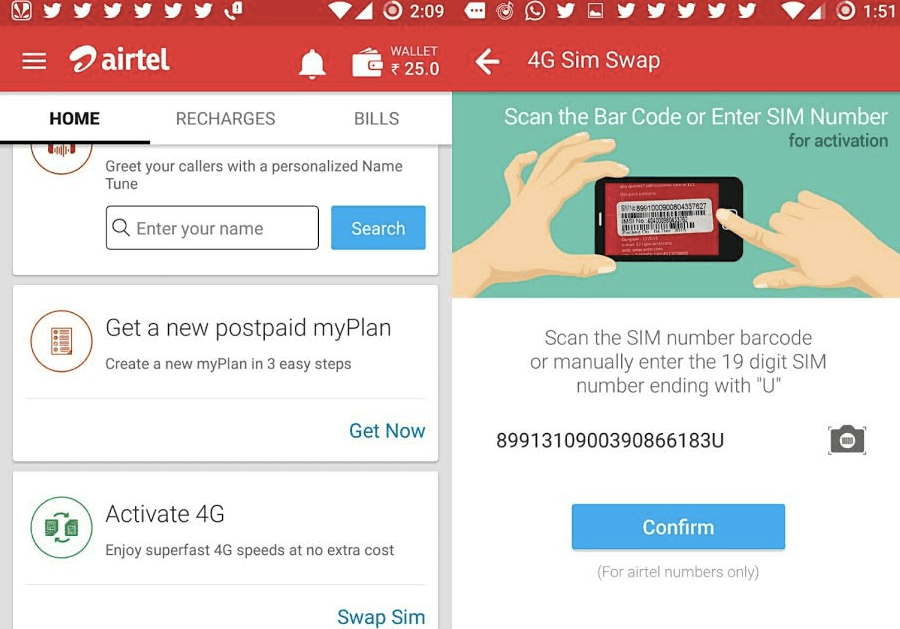 Airtel already offers easy SIM swap through SMS which was quite easy process. But many customers reported they had faced issues like delay in those systems. However, Airtel's new solution to upgrade the SIM through the app is lot more easy as one can easily upgrade with scanning the code of the new SIM sachet through the app. This move from Airtel is industry's first as other operators are not offering such kind of benefits to end users.
However to upgrade to 4G , it requires a new 4G USIM, which is available at any Airtel store. Meanwhile, partner retailers or anyone can request for easy SIM delivery through My Airtel app or Airtel 4G portal.
Steps to upgrade to 4G SIM through the app :
One needs to have latest My Airtel app for Android.
Customers have to log in to the app using his number.
In below menus ; tap to the ' Activate 4G - Swap SIM' tab.
Now, scan the barcode of the new SIM card which is available on the SIM packet/sachet.
Also one can type the 20digit SIM number ending U in that menu and confirm for SIM upgrade.
You will get a SMS , confirm that with '1'.
And you're done !
Unlike other operators, Airtel made 4G SIM available to every nook and corner of India. It helped them as lots of customers upgraded their SIM thinking they will get 4G in their 3G phones.
All these moves helped the company to increase its smartphone penetration and most of the smartphones selling in the market are already 4G ready. This ensures that if those customers upgrade to 4G phone they can enjoy 4G network too without any hassles.
Also, easy SIM availability and 4G expansion helped them to bag maximum customers in the last few months than other networks.