The cheaper, 8GB version of Apple iPhone 5C might be launched in India as soon as next week. The Apple iPhone 5C 8GB was announced in March this year as a cheaper option for those who can't afford the higher priced variants of the iPhone 5C or the iPhone 5S.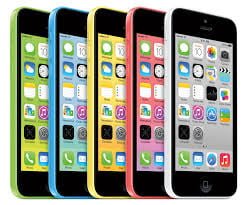 The 16GB variant of the iPhone 5C is currently priced at around Rs 37,000 but it is being sold in India for as low as Rs 30,00o with various buyback and cashback schemes. According to the price difference in the international markets, we presume that the iPhone 5C 8GB will be priced at Rs 4,000 lower in India than the 16GB variant. So, the iPhone 5C 8GB might come with a price tag less than Rs 35,000 and might be sold for less than Rs 30,000 with various cash back and buy back schemes.
The iPhone 5C comes with a 4 inch Retina Display, dual-core A6 processor, 1GB RAM, 8MP camera and 4G LTE connectivity. Is 8GB enough storage for an iPhone considering that you would not get more than 6GB of user available storage? Would you be interested in buying one?