As a general practice users usually believe the information provided on official website regarding the offers and benefits obtained on different recharges and blindly recharge without thinking twice.
But in a distrustful incident, we have received woes from customers and have also experienced it ourselves that Airtel' s official portal Airtellive.com have misleading information regarding recharge benefits which differs from what users get after recharge.
In a similar case reported, customers feel they are cheated officially by the company itself.
Airtellive.com shows a 3G data pack recharge with the following information :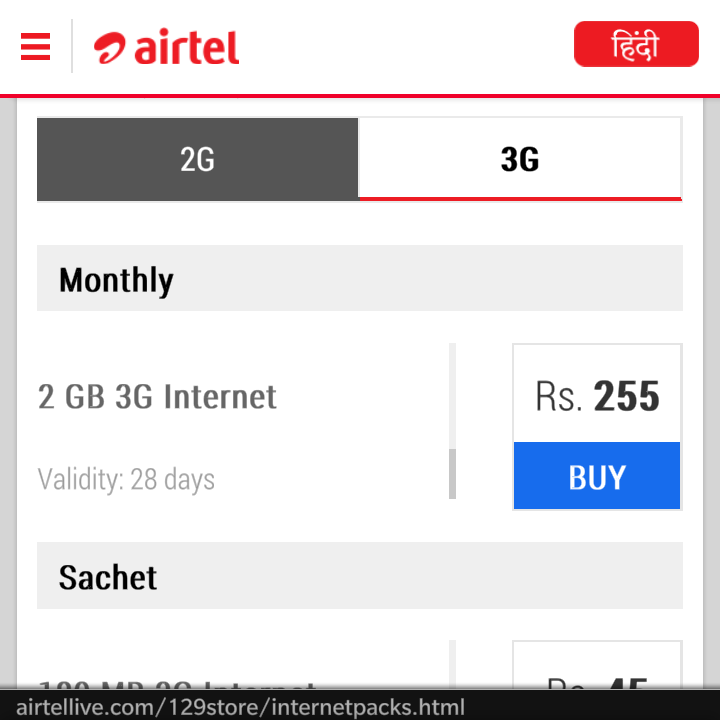 While the actual data benefit a user gets for the recharge is less compared to what Airtel described on their official site. The recharge confirmation page shows the same.
What did Airtellive.com page show as a benefit to users on confirmation page?
Benefits shown to user : 2GB 3G Internet at Rs255 with 28 days validity.

What is the actual benefit a user gets after recharging, that too after paying from available balance ?
Received Benefit : 1.25GB 3G data for 28 days at Rs255.

Screenshot showing the data balance credited after performing USSD via 121. Date : 25/9
We have cross checked just before publishing the article, and confirm there is no additions to data balance and it appears to be the same.
WE DON'T KNOW YET HOW MANY USERS MIGHT HAVE FALLEN VICTIMS To THIS.
A user who also reported the same to us, confirmed that he had raised a complaint about the same to customer care and they closed the case with a resolution SMS stating – "Recharge benefit has already been credited to your Airtel mobile number a/c. If not satisfied contact appellate details."
It is good that companies change the benefits and plans based on market scenarios, but on the other hand they should take care that no user is affected in this process and portals especially recharge portals should be updated with exact information of the benefits they provide. If, any such cases are reported I feel customer care should consider them and act positively.
So, now who should be held responsible for this – User or Airtel ? Now any user will feel cheated by the company. Have you ever faced such issues before with Airtel do let us know via comments.
Update: Airtel has fixed this issue.