Be it on Television, Radio or Outdoor! Everywhere you will find a high decibel campaign of Airtel's all new brand avatar which includes a brand new logo with a new brand jingle too.
As usual, people came out with their good and the bad versions of the new brand identity which airtel unveiled yesterday.
It seems that some basic points which Airtel forgot to take care of due to which Airtel still shows that despite the new brand launch, Airtel's lack of commitment is highlighted which we will see one by one.
First and the foremost still the landing property of Airtel's campaign when someone logs on to Airtel's website here. If you can recollect that recently Samsung Galaxy which was promoted last month had an option where in you needed to select High or a Low bandwidth version.Some may say the Airtel site is inspired by Samsung but we ask users to let us know if it is just inspiration or shameless copying.
We really are not aware of whether marketing team from Airtel is aware of it or not but a hard fact is the agency of Airtel and Samsung mobiles in India is both at the same which is Digitas which is a Delhi based company. Now we also came to know that Samsung Site was originally made by Samsung's Korean agency and the same was adapted by Digitas in India for the promotion of Galaxy. It now seems that Digitas has smartly copied up the site.
Let's check out Airtel's moving website first:
Now, Let's check out the Samsung's moving website:
Ok! This was the website part, but apart from this there a whole big list which i think marketing team of Airtel has to look out:
The favicon of airtel.in still shows the old logo of airtel which needs to be changed with the new one.
Airtel also needs to change hosting to a domain and not frame pages from IP's which is really a poor presentation.
Many links inside the new website doesn't open up, which again shows that the campaign was not tested before the launch.
And if possible Airtel needs to make the micro site load faster and also why is Airtel promoting 3G via TVC's when still 3G is not launched which shows that there is no proper integration between marketing team of Airtel and core network team.
Airtel also needs to understand that Sania and Saina are actually 2 different people as you can see that in url its written as

Sania whereas in image its Saina Nehwal and not SANIA MIRZA.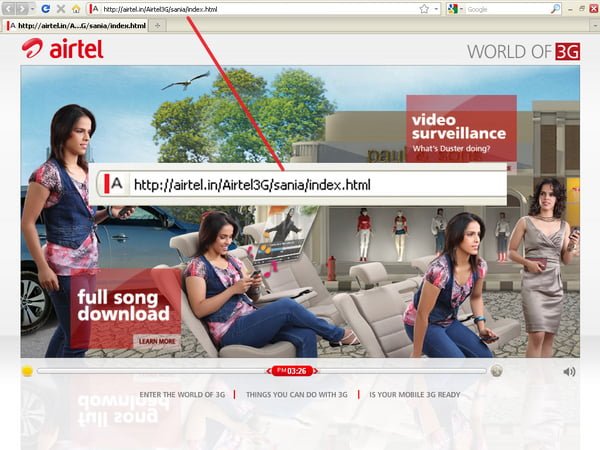 Source :[email protected]
Last but not the least it also now seems that Airtel hasn't worked well or researched on its brand new logo as it the new Airtel logo looks like a tilted log of none other than Videocon as shown below.
So, what do you think about all the above mentioned facts which are highlighted?