AIRCEL launched its 3G services on 24th Feb in Kolkata circle as we shared on TelecomTalk. The operator offers free trial of its 3G services - 250 MB data on 3G network and 50 minutes of video call. This free offerings will be valid till 1st March, 2011.
We officially tested the Aircel 3G / HSPA+ network and data speed in Kolkata telecom circle. Note that Aircel has licenses for offering 3G services in both Kolkata & West Bengal circle, till now Aircel officially rolled out 3G services in Kolkata metro area.
Aircel 3G – Following are the observations :
It is interesting Aircel does not allow any users to use its 3G network by setting network mode as 3G/UMTS rather users have to activate Aircel 3G first on their mobile no. Activation of Aircel 3G is done when you opt for Aircel 3G Trial Offers. To use Aircel 2G Pocket  Internet you have to send STOP 3G to 121 to deactivate 3G, otherwise data charged will be deducted from your main balance. You can check your GPRS & video call balance anytime dialing *126*1# (for main balance dial *125#)
Though some subscribers reported activation of Aircel 3G takes too much time, I found it was a matter of 2 minutes. I suggest to activate Aircel 3G you should send the sms START 3G to 121 from a 3G mobile phone. Then use it on data card.
Our first hands on with Aircel 3G is done with Samsung Galaxy 3 which is a HSDPA 3.6Mbps supported android phone. I tested with Speedtest.net Android App:
When We tried Aircel 3G on my PC with ZTE MF190 data card (HSPA 7.2Mbps) network detected HSPA i.e. Aircel installed HSPA of 7.2Mbps BTS in my area. Signal strength is quite good - 5 bars of signal (RSSI of -83dBm). All speedtest is done in indoor environment, outdoor network is expected to be better.
Aircel is not providing blanket coverage, as I found some areas of my home place Barrackpore is not covered with Aircel 3G. May be because in sub-urban areas Aircel installed 1-2 3G nodes. In selected locations Aircel installs 21Mbps HSPA+ BTS but speed will be restricted at maximum 7.2Mbps as Aircel has no 3G data plans offering more than 7.2Mbps bandwidth right now.
Speedtest Results :
With Mumbai server :
With New York server :
Downloading a file via Internet Download Manager: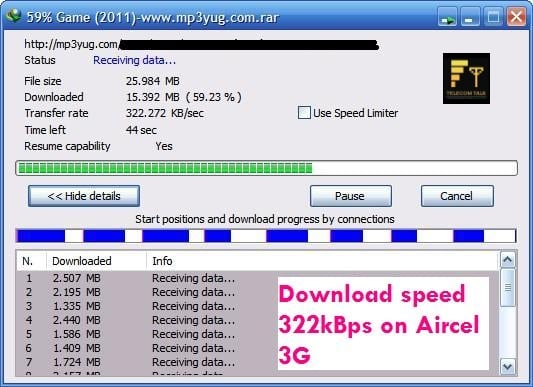 For More Details on 3G DATA Plans click here : Aircel 3G Data Plan Details.