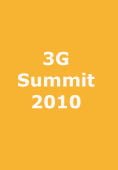 The First Ever 3G Summit in India was held on 2009 at Mumbai bringing all leading Telecom operators together discussing the new wave "3G"…. 3G was very unknown in the year 2009 and was still emerging.
Now the 3G has gained lots of attention , with government auctioning the 3G Spectrum to all Private Telecom Operators.So This Time, it is very Necessary that all Telecos gather together in a much Needed event and here is a Summit: '3G Summit' at New Delhi brought by Virtue Insight which is scheduled on July 22nd and July 23rd 2010.
Summit is a Large Gathering/Meeting where The Heads of all Telecoms and people in Telecom Industry Gather at a Venue discussing on a Higher Priority Topic, which needs actions and Reactions to take it to next level of Advancement.
Where?
ITC Sheraton, Saket, New Delhi, India
When?
22nd July and 23rd July 2010.
What does 3G Summit 2010 Focus on?
The 2 day Conference focuses on a theme "Identifying the significance of3G launch, Impact of mobile content & emerging issues in India & South Asia"
Who are Taking Part in 3G Summit 2010? Could I Take Part?
You can be Part of this Event if you belong to one of these categories.. The Key Participants would be leading operators, service providers, handset manufacturers, content developers, regulators, analysts, consultants, game makers, music, mobile imagery, WAP and streaming audio & video to address the key issues of the technology
Here are Few Interesting Stats:
Around $15.8 billion is expected to be generated as 3G service Revenue by the year 2013 which accounts 46% share in wireless service revenue.
Even 3G devices, could expect some exceptional revenues something around $11.2 billion, mainly generated by High-end Handsets..
With over 10 million mobile subscribes adding every month, Indian Telecom is the key to India's Socio-economic Transformation.
Who is going to Speak in the Summit?
The Key Speakers are Some of the Top Officials like
Robindhra Mangtani, Senior Director, GSMA
TV Ramachandran, Resident Director, Regulatory Affairs & Govt.

Shyam Prabhakar Mardikar, Senior Vice President – Network Services, Airtel
RN Padukone, Principal General Manager, Corporate Planning & Monitoring, BSNL
Randeep Raina, Head 3G, Nokia Siemens Networks
and more……..
How to Register /Buy Ticket to this Mega Event?
To book tickets by Sms, Sms GYAN 3G2010 to 56161
You Can Register at VitueInsight and get the the Complete Conference Brochure.