Xiaomi has not only made its name in India as a smartphone manufacturer, but its accessories have also seen a massive demand in the country. As such, a lot of products which were previously limited to China have now been making their way to India as well. Xiaomi is always launching innovative and utility products for its Indian buyers, in a new related development, the company on Tuesday, a new 20000mAh Mi Power Bank 2i in India. This new power bank comes in a single black colour option and is priced at Rs 1,499. Xiaomi has announced that the power bank will come with fast charging 18W support and it packs high-density lithium-polymer battery. In addition to this, the Mi Power Bank 2i also comes with dual-USB ports meaning that users will be able to charge two devices at once. The new Power Bank will be available on the Mi.com official store.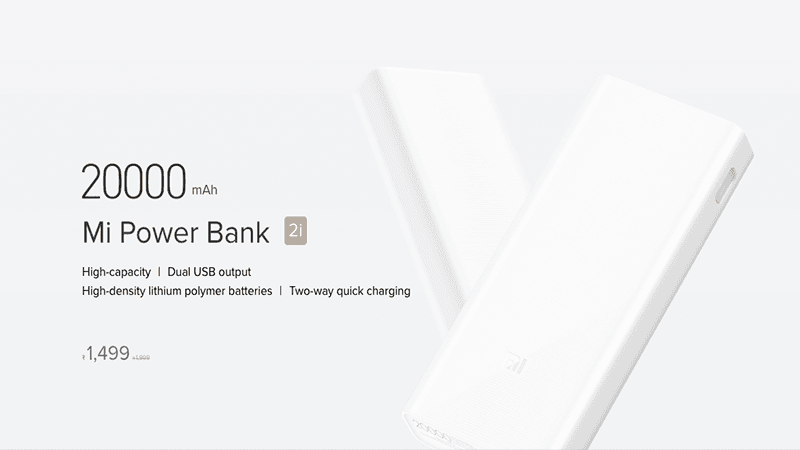 20000mAh Mi Power Bank 2i Features Detailed
It is also worth noting that Xiaomi also has a 10,000mAh power bank in store for the buyers. The 10000mAh Mi Power Bank 2i on the website has been listed for Rs 899. As opposed to the 20000mAh power bank by Mi, the 10000mAh power bank is available in three colour options which includes red, black and blue colour variants. To reiterate, the new 20000mAh Mi Power Bank 2i retails for Rs 1,499 on the official Mi.com store, and it is available in a single black colour. Also, the power bank offers dual-USB ports.
Xiaomi has also claimed that the 20,000mAh Mi Power Bank 2i fully charges the Redmi K20 Pro and the Redmi Note 7 Pro three times. The brand has also added that it also supports iOS devices. As per Xiaomi's claims, the 20000mAh power bank was able to charge the iPhone 8 7.2 times. Also, Xiaomi has noted that the dual USB ports allow the users to charge two devices at once and the power bank intelligently adjusts the power output depending on the device that is plugged in. The plus point of the new power bank is that it supports the 18W fast charging. For a comfortable grip, the power bank has been designed with PC + ABC material, and it also comes with a sandstone finish to add an aesthetic appeal.
Temperature Resistance and More Security Features  
Xioami has also noted that the 20000mAh Mi Power Bank 2i provides nine layers of circuit chip protection including temperature resistance, reset mechanism, short circuit protection, incorrect insertion protection, input overvoltage protection, output overcurrent protection, output overvoltage protection, overcharge and over-discharge protection, and PTC protective circuits for the cell. There is also a 2-hour low power charging mode on the Mi power bank 2i which can be activated by double-pressing the power button. This mode will be appropriate for charging Bluetooth headsets and fitness bands. As per Xiaomi, the power bank will be fully charged in 6.7 hours via an 18W charger and in 10 hours using a 10W charger.