Xiaomi is going all guns blazing in every possible arena. It has now ventured into wearable technology and has launched the world's cheapest fitness tracker with the moniker Mi Band. It is a simple no nonsense band which has all the functionalities you'd expect from a fitness band but the most interesting bit is its price tag. It has a price of $13 which is almost Rs 750. And for that price, it provides quite a lot of value for money.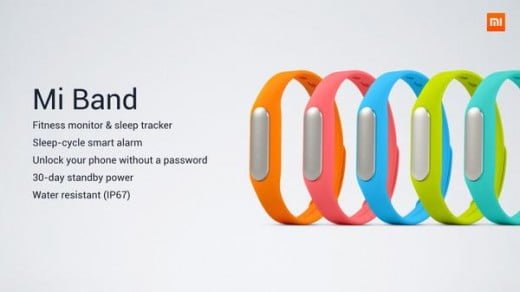 It has a battery life of 30 days which is quite impressive. It comes with a slew of sensors for tracking your health and will double up as an alarm clock too. Another interesting feature is its proximity sensor functionality. It will unlock your smartphone without a password if the device is held in the same hand as the one in which you are wearing the band.
It is IP67 certified and will be launched in a slew of colours. It will double up as a personal identification too in future. It is being worked upon to be something which can unlock your door when you come home, or switch on smart appliances and gadgets and so on. There is no word on its international availability or when its rollout will begin. All we know is that it will surely go on to become the most popular fitness band globally.