As expected, during the ongoing WWDC 2014 event, Apple has officially announced a new version of its smartphone and tablet operating system; iOS 8. It adds various new features and brings in enhancements to existing features. In my view, the biggest additions are widgets, continuity, access to 3rd party keyboards, iCloud Drive and app extensions.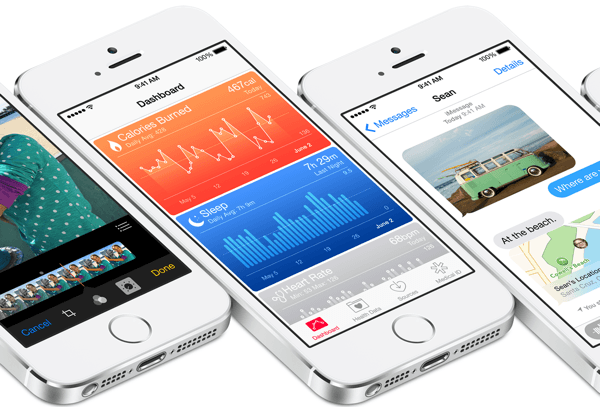 Widgets & Interactive Notifications
Apple has finally brought in support for 3rd party widgets. Earlier, only a selected number of Apple developed apps could show up as widgets in the notifications centre. Apple showcased some 3rd party widgets from Ebay and ESPN. Even notifications have received much needed enhancements. Now users can respond to notifications by swiping them down when they appear.
iCloud Drive & Extensibility
iCloud Drive is a brand new app which will be available for iOS 8. It displays actual files and folders from various apps which sync their data with iCloud. All the photos stored on iCloud can now be accessed through a new iPhoto app. Any files saved on iCloud Drive can be opened via compatible apps installed on the device.
Extensibility feature allows developers to make their app show up in 'open with' menu when files are opened. It is now possible to open images from gallery directly into required editing apps. Now, every file type can be opened directly into compatible 3rd party apps via iCloud Drive.
AirDrop, Handoff & Continuity
AirDrop, a functionality introduced in iOS 7, could be used to share files between iOS devices. Starting with iOS 8, files can be sent to and from between Macs and iOS devices.
Handoff is an expansion of AirDrop which allows task and data sharing between iOS devices and Mac machines including phone calls, messages, files and more. You can start editing a document in a Mac device and continue it on an iOS device using 'continuity'.
QuickType and 3rd Party Keyboards
Apple has introduced QuickType keyboard which can now predict words and sentences. This predictions are customised depending upon apps and the person whom you are conversing with. Apple says that the tracked data stays on the device locally and apple doesn't retain any of it on their servers. iOS 8 allows 3rd party keyboards so you might some day be able to use Swype, SwiftKey and Fleksy.
Touch ID Protection
Apple is opening up Touch ID to 3rd party developers. Apps can now use Touch ID protection for logins, protecting user data and unlocking keychain items. Apple insures that the actual finger print data access won't be provided to developers.
Spotlight & Siri Enhancements
There has been a huge upgrade to Spotlight in iOS 8. It can now lookup for data on the web and display information such as apps from AppStore, movies, music and points of interests via Wikipedia.
Family Sharing & Multitasking With Favourites
A lot of data can be shared between families, including apps, media, events and a to-do list. The family account can consist of up to 6 members who share the same credit card information. Multitasking doesn't only mean switching back and forth between apps. Apple understands this ad a new menu has in the multitasking UI gives access to your favourite contacts and you can text them or call them directly.
App Store
App Store now features better search functionality and brings in new categories providing developers a better reach for their apps or games. Apple will also allow developers to sell their apps in bundles at discounted prices. This is a first of its kind but much needed functionality. Even Google Play Store or Windows Phone Store doesn't support this functionality.
HealthKit
HealthKit is Apple's new platform focussed towards health and fitness. All the health and fitness related apps can push and pull data via HealthKit. Various such apps can talk to each other and use each other's data. Apple has already teamed up with some famous health and fitness apps such as Nike and Mayo Clinic. This platform should make the introduction of Apple's iWatch (or whatever it would called officially) much easier.
Enterprise Features
Not to forget that Apple has also improved enterprise related features. iOS 8 features better security, new productivity features, better data and device management tools.
iOS 8 Device Compatibility List
iPhone 4S
iPhone 5
iPhone 5C
iPhone 5S
iPod Touch (5th Gen)
iPad 2
iPad with Retina Display
iPad Air
iPad Mini
iPad Mini with Retina Display
Apple has introduced a lot of options which are inspired from other platforms such as widgets, improved notifications, 3rd party keyboards, iCloud Drive, app extensibility, etc. A rumour regarding iPad gaining the multi-window multitasking support turned out false though. iOS 8 is available in beta state to developers starting today while it will be available to general public for free in fall (late September), later this year.