As everything goes perfect, Airtel will be the first operator in India to launch LTE based wireless broadband services in April, 2012.
From our readers reaction we can say people are not very much excited with 4G roll out like they were during 3G roll out.
Reason is simple, 3G is not affordable and hence people are not betting high on 4G, at least not from Airtel 4G. Many readers of Telecomtalk think that 4G pricing may be at the same rate of 3G or can be higher. We believe it could not be happen. Let me explain.
First of all 4G pricing cannot be higher than current 3G pricing, because BWA players won the spectrum at much lower price than 3G operators.
Now on 4G there are some companies who have no 3G option. This list includes Reliance Infotel, Tikona, Augere and Qualcomm, while Airtel, Aircel, BSNL and MTNL have both 3G and 4G spectrum.
For 3G and 4G winners it is little tricky as if they comes with 4G tariffs lower than 3G tariff, they may lose the opportunity to make 3G business viable.Now why should Airtel keep the 4G tariff affordable to users?
If Kolkata is the choice for Airtel to kickstart 4G
Going by the words of our sources Airtel will choose Kolkata to headstart LTE based wireless broadband services. Kolkata is the metro which generate lowest ARPU compared to Delhi, Mumbai, Chennai, Hyderabad and Bangalore.
Even if we take this launch at Kolkata as pilot run, it would be interesting to see how Airtel can get proper feedback from Kolkata keep the tariff high.Sources say 4G operator wants to make next Broadband revolution in India and will be concentrating on those places where broadband penetration is very low.
In Kolkata Airtel's fixed broadband coverage is very scarce, only central Kolkata (Park Street mainly) and Salt Lake. With LTE Airtel can reach at areas, where BSNL is doing monopoly, but to compete BSNL's ADSL based fixed broadband Airtel must keep its 4G tariff competitive.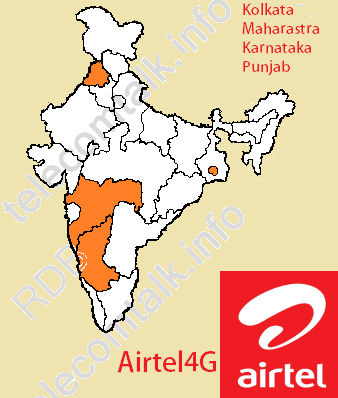 LTE – A Technology to Deliver Broadband
We expected 3G to be saviour of slow 'bored-band' victims across India, but logically with just 5MHz spectrum and huge spending on auction and network establishment cost operators are not able to make 3G as a replacement of wired broadband.
But LTE (Omni-accepted 4G technology in India) in India can do wonder. The situation in India is different from US or Europe where fixed broadband is widely present. 3G in those countries is mostly used for phone and more like 'personal broadband'.
As it is sensed Reliance Industries will like to start LTE services as a replacement of fixed broadband. It would be wise for Airtel to treat LTE as fixed wireless broadband services.
LTE Device Strategy
As LTE ecosystem is not mature, at this stage LTE devices will be costly. The spectrum band of 2300 MHz which is used in India for LTE deployment is a new band. In US Verizon offers LTE-FDD on 700 MHz band, while AT&T offers LTE-TDD over 1700/2100MHz band.
At current stage, operators will bring locked LTE devices. Devices are expected to be limited to tablet and dongles. Pricing of these devices will be high, operators should subsidize the device cost, or bundle real-good data plans.
We need more 4G device vendors to come and start its business in India so that customers will have winder option to go with 4G devices at a cheaper price and no need to depend on Operator.
So as a reader what do you think will 4G be cheaper in India and can 4G be the next big thing to high speed Internet revolution in India? Do share your views by comments.