Online recharge service is a must facility an operator has to provide.With more and more people joining internet everyday, It is very necessary to provide customers with a secured, flawless recharge system online.
We tried to Spot some of the Telecom Operators who are Good at this.TelecomTalk gives Vodafone Full Marks and we feel nothing wrong in Terming Vodafone as a "Best Online Recharge Provider" for Prepaid Customers.
Here we List our Experience, Trying Online Recharge with different Operators
Airtel
Airtel, India's top GSM operator has done several campaigns to promote its online recharge service. We conducted a small test.We visited the Airtel's official website airtel.in and we were happy to find the option to recharge online.
Things we Noticed in Airtel's Online Recharge System
- Simple listing which asks for your number, recharge amount in a drop down box and a CAPTCHA for Security.

- Airtel mainly relies on mCheck service.
- One has to have Mcheck PIN to make recharge.
- Range of Denominations available are very less. There are just 9 options to choose with (Minimum Recharge Amount 50Rs).
- No Special Voucher recharges like Internet pack for 98 etc can be done Online!.This disappointed us as Internet Users wish to Recharge for Internet Plans Online.
- Payments via Only Credit Cards or Net banking. No debit cards allowed! (though they have mentioned all types of VISA card allowed)
- What we did not like is, they are using mCheck even on web mCheck is best suited for mobile and though using it online  is simple.It prompts you for mCheck PIN! Also we were not able to recharge via debit card!
Minimum recharge amountt was 50 and no special recharges were allowed.
Here is the link for Online Recharge for Airtel
Idea Cellular
Idea Cellular's Official website ideacellular.com flashes the "Online Recharge Banner" but Idea prompts you for an 8 digit code to make your life still complex with additional verification thing.We were unable to recharge at one go because of 8 digit barrier.
Here is the Link for Online Recharge for Idea
Aircel
Aircel has limited number of denominations to recharge (60,100,222,333,500). Though it has option to recharge for special offers like internet packs. We couldn't see many important special vouchers listed one good thing is , it don't prompt you for any complicated PIN.
However we got This Error Message at End
"Dear Customer,
This service is temporarily unavailable due to some technical reasons. We regret for the inconvenience caused. Please try again later"
Aircel definitely has broken Online Recharge System".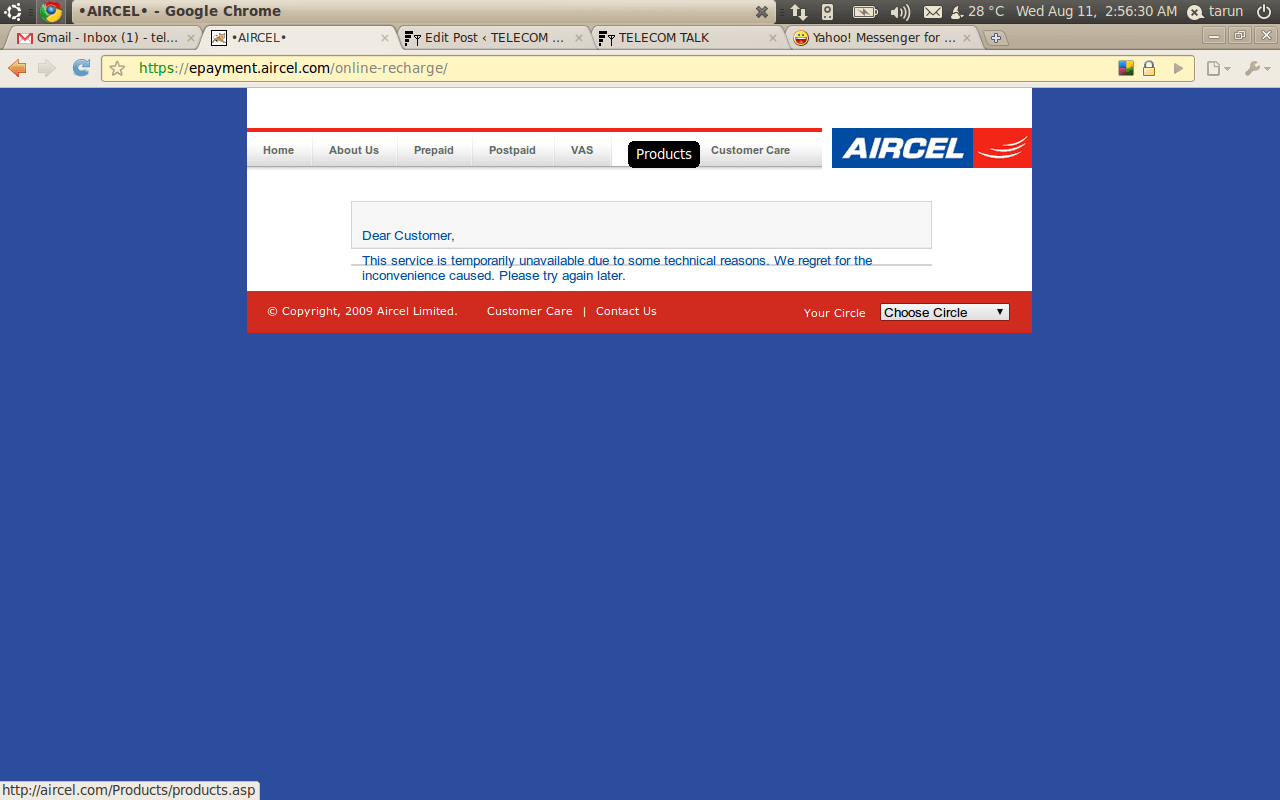 Here is The Online Recharge link for Aircel
Reliance
Reliance doesn't have any facility which provides online recharge!
We Checked their Official Website (Both CDMA and GSM) to find nothing about Online Recharge!
Tata Docomo
Tata Docomo, the new kid on the block  provides online recharge service an Amount as low as 11 can be recharged online.Tata Docomo even accepts Credit Cards, Debit Cards and Net Banking.The only thing which Lags in Tata Docomo is one cannot recharge special vouchers its Pops up a Window "Coming Soon"
Online Recharge  for Tata Docomo
Uninor
No Online Recharge Facility!
BSNL
Provides online recharge cacility you have to get ready with your Username and Password to Recharge (Open for Registered Users Only)
Why Vodafone Online Recharge is the Best
- Recharge link available at Vodafone.in, official website of Vodafone, recharge is open for all!
- Prompts only for mobile number and basic information . You do not need to worry about the mCheck PIN code as in Airtel or 8 digit code as in Idea.
- Recharge as low as Rs 10 (Chhota Recharge) and it has a huge list of recharging denominations.
- Top up recharge for talktime, validity recharges and even special voucher (Bonus Card) recharges can be done Online.
- Credit Cards, Net Banking and Even Debit Cards can be used as a Payment Mode.
- Better user interface and simplicity one can easily choose between the different packs and choose the best as every pack including special vouchers are displayed.
- Provides Unique Transaction ID, One Can Verify and Check the Status of Transaction with it.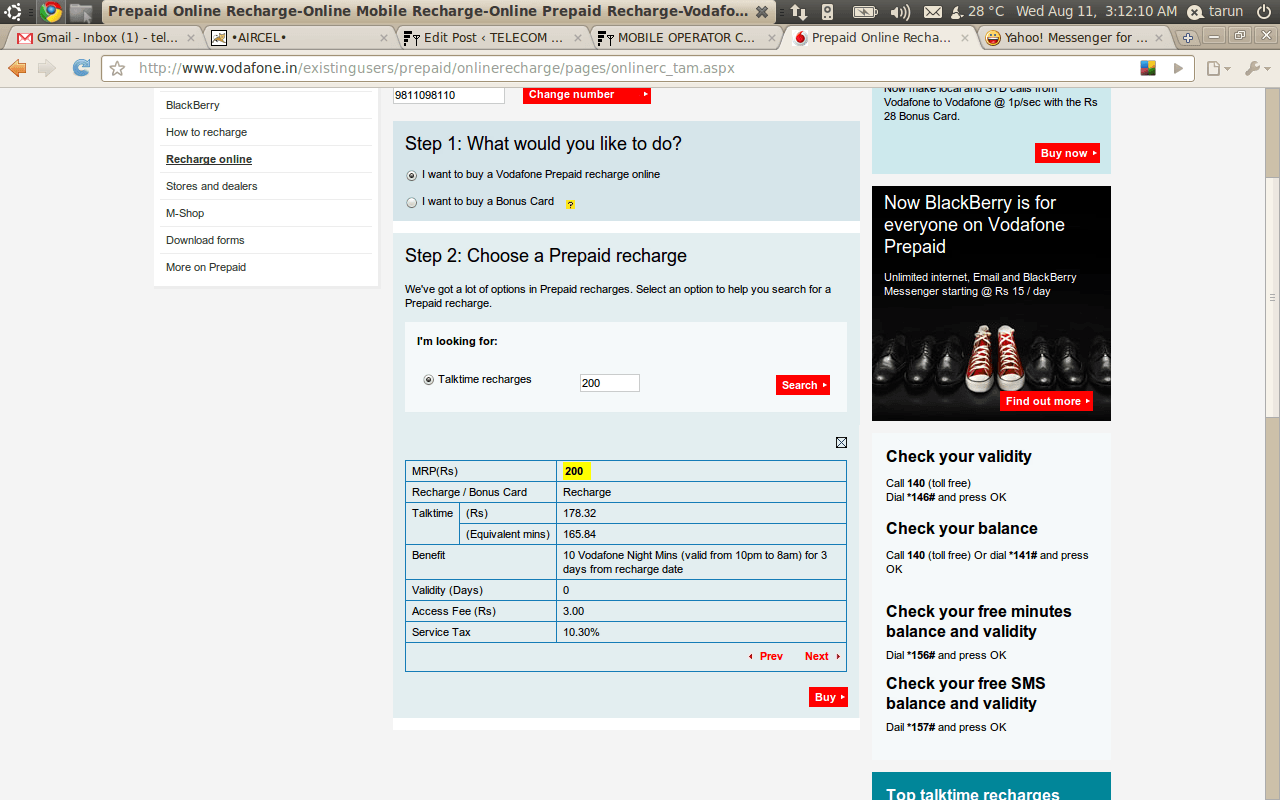 Here is the Link for Vodafone Online Recharge
Let Us Know Your Experience on Online Recharge, what payment mode you used and Which operator really Rocks when it comes to Online Recharge.