We conducted the TT Poll: Pan India Mobile Data Usage Survey few weeks back and would like to thank our readers for their responses. After filtering the responses we were able to consider 828 of them in this survey result. It was very fascinating to read the experiences/suggestions users have provided in the survey result, though it was an optional field. Here are the survey results:

We can clearly see that most of the users have upgraded to high speed networks and are currently using a 3G Data pack followed by 2G and 4G Data packs.
69%(573) subscribers are on the 3G network while 29%(240) subscribers are on the 2G network. Only 2%(13) subscribers are on the 4G network. While subscribers have upgraded to 3G, the adoption of 4G is pretty low at this point. Operators will need to create an incentive for the subscribers to upgrade to 4G, of which pricing can be one factor. Other factors need to be explored.
Assumptions for upgrading:
Poor 2G speed provided by operators
Smartphone/App requirement and demand for speeds to ensure a smooth operational user experience
Users wanted to upgrade to next generation fast networks and experience speed on the move
Increase in the prices of 2G data.

Yes, everyone wants an upgrade and so was the survey result. Majority of the users are ready to upgrade to next generation data services provided the availability of Network/Device Ecosystem and pricing of the data services. The survey also throws light on a specific category of result – "Let the network be available widely" which hints the operators that users are expecting the network to be available widely to make a switch to new technologies.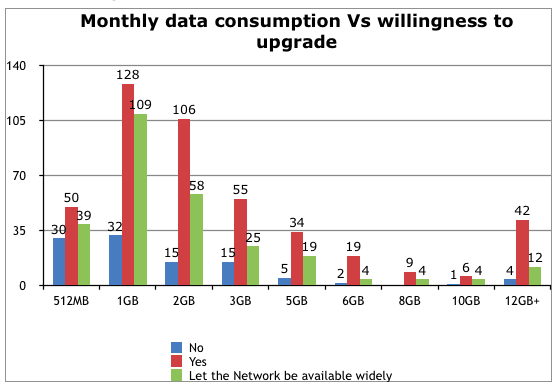 Key observations:
54% of subscribers are willing to upgrade while only 13% of subscribers are not thinking of upgrading at this point.
33% of subscribers are waiting for the network to be widely available. This is very interesting which tells us that subscribers have expectations about the network availability from the operators.
78% of users from the 12GB+ consumption range are willing to upgrade their network. This is good news for the LTE markets.
In the lower data consumption ranges of 512MB and 1GB, there are more fence sitters waiting for the network to be widely available. Whereas in the higher data usage ranges, subscribers are willing to upgrade.

Key Observations:
IM and email communications and general browsing emerge as the two biggest reasons for consumers to subscribe to data packs. This is in sync with maximum subscribers using the lower 512MB, 1GB and 2GB data packs.
41% of subscribers use data to download while only 17% use it for music and 24% use it for videos. This clearly indicates lower content consumption patterns which are prevalent in India right now. Change in this behavior will be a key for success in the 4G marketplace.
The reason for increase in the demand for data is clearly portrayed in the survey result. Yes, people want to be connected all the time and so the demand for data on the go. 80% of the users are subscribing to data packs to be connected on the go with IM applications/Email. This shows the increasing popularity for IM clients on mobile, which also means a decline in the use of sms. While 86% of users are subscribing data packs for browsing, 47% for navigation and general phone stuff, only 17% of users are using data packs to stream music.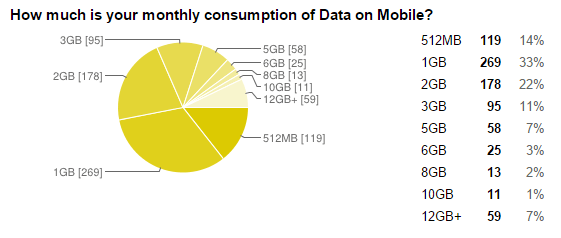 1GB is the most subscribed pack by mobile data users followed by 2GB pack monthly. A lot of users complained that it is very difficult to consume their data pack benefits, on 2G, completely before the pack expires. So, when one can't consume their data pack completely in the present scenarios and quality, how can they consume it completely even if operators allow carry forward of unsed benefits ? There may be instances of ending up benefits provided the user is on it to complete the data pack benefits. Now the question "Aren't operators benefiting from the left over unused data pack benefits because as a user I paid for it" is left to individual choices.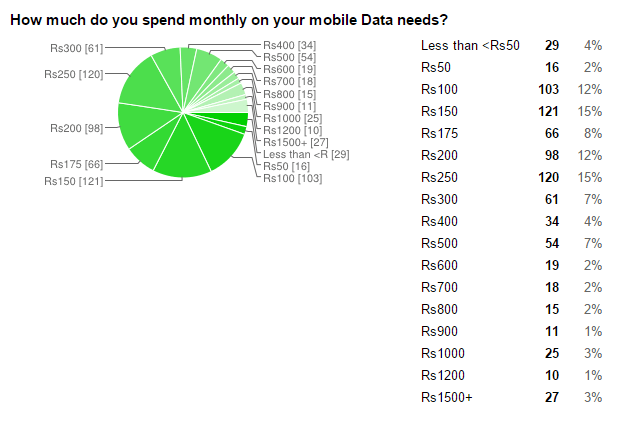 On an average around 15% of the users are spending Rs150 and Rs250 monthly on their data usage.

30% of the users' response stood neutral to this question – rating 1 being least satisfied and 5 very satisfied. Our operators can strongly say we are in mobile data revolution only if at least 70% of the users rated 4 in their Qos measure. Good to see the next major share of 20% users rated their operator on a scale of 4 being happy with services.

*What will anyone do if 1GB data from a ~4 Mbps fiber connection is affordable compared with a 1GB 2G Mobile Data pack? Yes, the same thing is portrayed even in the survey result. 63% of users use wi-fi on mobile at home and work for their data needs. No one will switch on mobile data when they have a much faster/cheaper connectivity (Wi-Fi) in vicinity, which also consumes less battery when compared. It is common sense that users will opt for lesser data packs and use alternate sources like wi-fi, considering the data charges on mobile are hefty.


This is expected, 45% of users are ready to switch to broadband at home/work when the operators keep on hiking mobile data charges. Very glad to see 39% of users are already following the same strategy.

61% of users feel that they are not getting the Data/Quality worth for what they have paid followed by 28% users who feel what they are paying for is what they are getting.
This not only heats up the mobile data competition but also increases the broadband penetration/competition across the country. This is more of abitter-sweet news for operators who are on hiking spree.
Dear readers, do let us know your opinion on the survey result and also on the discussed points. Also let us know your feedback on this survey.
Note: Results discussed above are based onthe survey results from various users across circles. * denotes approximate plans taken into consideration.