As the world started moving on from CRT TVs to LCD TVs, there was one more change happening in the ecosystem of home audio-visual entertainment. DVD players were being replaced by media players or smart televisions. One could just transfer media files to a hard disk or a pen drive, attach it to a media player or a smart television, and play back effortlessly.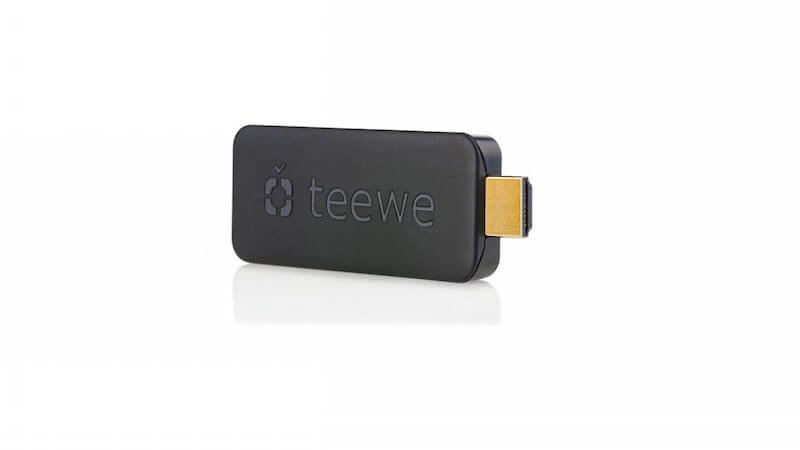 After the broadband speed improved, people started streaming music and videos from YouTube, and other media streaming websites. Consumers want to stream media, mirror what's on their screen, and play smartphone games on the big screen. This is where Google Chromecast fit in nicely, and became one of the best-selling smart dongle in the world. However, it was not released in India until a few months ago.
What Is Teewe 2 and what can you do with it?
To bridge the absence of Chromecast in India, an Indian brand – MangoMan Consumer Electronics – entered the market of smart dongles. Its first product was called Teewe, and now, the company has launched a faster, slimmer, better-looking successor aptly named Teewe 2. Teewe 2 is a smart dongle that attaches to a TV or a monitor and allows playback of media files – music, videos, and images – from smartphones, tablets, laptops, and PCs.
It competes with Google Chromecast, and a bunch of other media streaming and screen mirroring devices. It is priced at Rs. 2,399, but is it a factor enough to rule out Chromecast? Let's have a look at how this nifty device performed.
Teewe 2 Specifications
Interface: HDMI
Processor: Dual-Core ARM Cortex-A9 CPU, Quad-Core GPU
Memory: 1GB DDR3 RAM
Connectivity: Wi-Fi 802.11 b/g/n (Single-Band 2.4 GHz)
Platform Support: Android, iOS, Windows Phone, Windows, Mac OS X, and Linux
What's Inside The Box?
Teewe 2 Dongle
HDMI Extension Cable
AC Power Adaptor
60GB Free Data For Airtel Broadband Users (Worth Rs. 1,500)
2 Months Eros Now Premium Subscription (Worth Rs. 600)
Teewe 2 Setup
Teewe 2 has apps for all the popular platforms, be it mobile – Android, iOS, and Windows Phone – or desktop – Windows, Mac OS X, and Linux – and that's the biggest advantage a third-party service has over platform makers like Apple, Microsoft, and Google. All these big brands have solutions limited to their own platforms (or limited support on other platforms). Apple TV and its AirPlay functionality is limited to iOS and Mac devices. Chromecast has support for Android, and limited support for iOS, Windows, and Mac.

On the other hand, Teewe's apps and browser plugins are very well designed. They are available to download from the company's official website and/or respective application stores related to the platform. I tested Teewe 2 using Android, iOS, and Mac.
After downloading apps on your respective devices, you need to connect the Teewe 2 in one of HDMI ports on your TV.
Connect Teewe 2 to an HDMI port on your TV/Monior
Open the Teewe 2 app on smartphone/laptop/PC
When the app finds the Teewe 2 on your Wi-Fi network, press 'Setup Teewe'.
Enter the code displayed on your TV/Monitor, and click 'Next'.
After the app successfully connects to your Teewe 2, you can name it as per your liking. The Teewe 2 then connects to your home network.
After the setup is complete, don't forget to turn on the 'Play HD' option. This option resides in the hamburger menu that can be swiped from the left side of the app.
Audio-Visual Quality & Performance
There were no quirks with the audio quality, but the images and videos casted from the Android app lacked quality. Almost everything seemed grainy and pixelated. I was not able to playback high-bitrate videos, as the app kept on throwing an error pop-up that asked me to play the video using my PC. The videos playback lagged and stuck in the middle a lot of times, and that irritated me. You might think that it might be a problem with my Wi-Fi Router's limited bandwidth. No, I have a Netgear Nighthawk R7000 at my home, and that's a Wi-Fi ac/b/g/n router.
Moreover, for some strange reason, the images were being displayed in 4:3 aspect ratio, even though the images stored in my Galaxy S6 were actually 16:9 aspect ratio. However, this problem got solved after some days (maybe after a software update). On the other hand, there was no such problem in playback of images and video through my iPhone 6 Plus. However, there is no way to stream music or locally stored videos from the iPhone to Teewe 2. That's a bummer, right?
When it comes to desktop apps, there's a Mac OS X app that requires installation of Java 6 runtime. You can add media files in that app, which in turn can be streamed to TV. Then there are Teewe 2 app and plugin for Google Chrome. After installing them, you'll be able to mirror the complete tab, or just stream the video found on the current webpage that is being browsed. There's an option to stream just the audio from a tab to Teewe 2, and I was able to play audio from Saavn on my TV. Also, you can control the playback on Teewe 2 using any smartphone/PC that has the Teewe 2 app installed. That's nifty!
Value
The Teewe 2 is available on Flipkart for Rs. 2,399. At this price, the company managed to price it lower (Rs. 600) than Google Chromecast, but I don't think that it is low enough. There's no app support to speak of. With Chromecast, you can cast audio or video from hundreds of apps like YouTube, Rdio, Airtel Wynk, BoxTV, Eros Now, PocketCasts, Musixmatch, NDTV, and hundreds more. With Teewe 2, you are stuck with images, videos, and music stored on one of your devices, or videos from YouTube, leave alone party and children games.
It misses out on smartphone screen mirroring functionality that Chromecast offers. No, I am not saying that it you will spend hours using screen mirroring if you buy Chromecast or other Miracast adaptors, but if you need the feature, it is there to use. Spend a little more, get Chromecast, and you'll have a huge ecosystem of apps and content that improves day by day.
Score: 5/10
Verdict
The Teewe 2 was a noble idea when Google Chromecast wasn't officially available in India, but Google launched it in the country, along with some good offers. Teewe 2 is a good improvement over its predecessor, but not good enough to beat the Google Chromecast due to third-party app support. Most people would be better off buying the Google Chromecast even if it is priced slightly higher.
Pros:
Presence of apps on all platforms that matter - Android, iOS, Windows Phone, Windows, Mac OS X, and Linux.
Well-designed apps and browser plugins.
Setup is quite easy.
Cons:
Local video playback quality is bad.
Device restarted/stuck a couple of times.
No smartphone screen mirroring functionality.
No third-party app support.