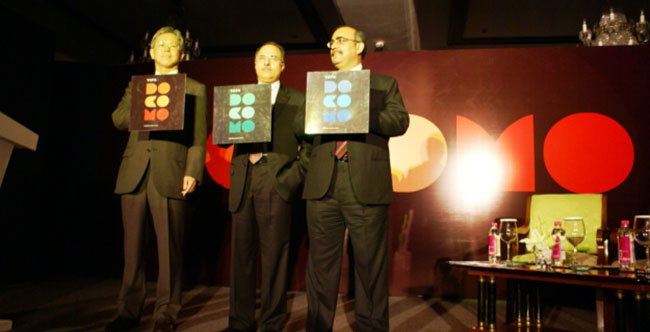 TATA DOCOMO, the GSM brand of Tata Teleservices Limited, today announced the commercial launch of its operations in Kerala, just a day after it announced its launch in Tamil Nadu. The company's Next Gen GSM service started on a heady note, with TTSL Managing Director Anil Sardana making the first phone call from TATA DOCOMO's 3G-ready network to Minister of State for External Affairs Shashi Tharoor. TATA DOCOMO's pan-India service rollout will be completed this year, with South Indian Circles going 'live' soon.
In a message at the launch press conference, Mr Ratan Tata, Chairman, Tata Sons, said: "The value proposition offered by TATA-DOCOMO is a unique and revolutionary idea which symbolizes the spirit of innovation and inventive genius. This launch is truly a moment of triumph for the consumer.
The launch of pay-per-use, per-second concept offered by TATA-DOCOMO will create a paradigm shift in the overall telecom experience for the customer and provide a service that is refreshingly different."
One Paisa Per Second for All Calls—Local & STD! Per-Second Pulse Announced!
TATA DOCOMO also unleashed a wide array of products and services at the launch, riding on the back of path-breaking innovative products and services, and never-before tariff options. "We had made a promise that we would bring to the country products and services that would redefine the telecom experience," Mr Anil Sardana said. "It is a privilege to be fulfilling that promise in South India—where subscribers are discerning and seek transparency, innovation and differentiation. Our partnership with NTT DOCOMO will help us provide our subscribers with tremendous technological and service differentiation. Keeping in view the century of trust associated with the House of Tata, we are launching the concept of fare being fair. From today, TATA DOCOMO subscribers will now be able to enjoy the benefits of 'pay-as-you-use', at only one paisa per second for all voice calls across India," he added.
In a video-address, Mr Toshinari Kunieda, Senior Vice-President and Managing Director, Global Business Division, NTT DOCOMO, said: "NTT DOCOMO has provided technical inputs to make the TATA DOCOMO GSM network world-class. Progressively, NTT DOCOMO shall bring to India the various products and services that we offer in Japan and many other countries—such as i-modeTM, Location-based Services (LBS) and mobile payment—and give TATA DOCOMO customers a flavor of tomorrow. TTSL and NTT DOCOMO are closely engaged in integrating technology, value-added services, products and applications through the mechanism of Business and Technology Cooperation Committee (BTCC). This should see TATA DOCOMO change the way India communicates."
Announcing some very aggressive pricing and customization options, Mr Deepak Gulati, President, TATA DOCOMO, said: "In a market that is cluttered with many operators and throws up confusing options, we will offer simplicity to consumers by being the country's most transparent, innovative and liberating telecom brand. The first move on this front—both in Kerala and in Tamil Nadu—is to cut through the clutter and redefine the entire pricing paradigm—from Day One of our launch, we will work on a per-second pricing model for almost everything, be it voice calls, VAS services, IVR interactions. Above all, we promise to always listen to our subscribers."
TATA DOCOMO also announced the introduction of the pay-as-you-use advantage for many of its Value-added Services, including all its voice portals, 24-hour music, cricket commentary and voice chat. The Company also announced Free Missed Call Alerts service to all its customers without any charge whatsoever. In addition, VoiceMail on TATA DOCOMO will be totally free for all subscribers with no burden of monthly rentals, no deposits, and no retrieval charges.
Superior Technology and Network
From the day of the launch, the reach and coverage of the TATA DOCOMO network is greater in Kerala than that of any other operator at the launch stage. The TATA DOCOMO GSM mobile service will have coverage in 493 towns and cities and 516 villages in Kerala, alon the state's highways, at airports, rail routes and at places of tourist interest.