So mobile bubble bursts in India! With Supreme Court's verdict regarding cancellation of 122 licenses for 2G mobile services given in 2008 by the-then Telecom Minister A. Raja, Indian telecom sector will see worst nightmare in coming days while incumbent operators will have their position stronger than ever in last 4 years.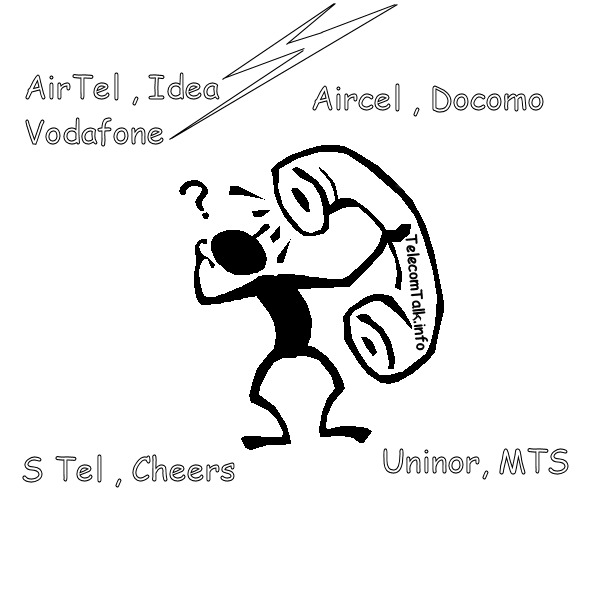 Supreme Court comments that 2G spectrum in 2008 was given away in a "totally arbitrary and unconstitutional" manner. SC also imposed penalty of 5 Cr to Etisalat-DB, Unitech Wireless and Tatas and Rs 50 lakh to Loop and Shyam-Sistema respectively.
The impacts of this decision are huge and can put the whole telecom sector in emergency as all of these operators are in business for some years and they have employees and too many contracts with vendors, network operators and other companies. Overall they have a good number of subscribers base also.
It proves that there was some mishap during the spectrum & license allocation in 2008. It also says that UPA Govt. did not work properly to get more earning by selling mobile licenses, which was earlier denied by present telecom minister Kapil Sibbal (zero loss). Blaming NDA Govt does not work here.
New Operators who grabbed licenses in 2008 are in big trouble. In 2008 Uninor, Sistem/MTS, Loop, Videocon, Tata Docomo (GSM) and Cheers emerged as new players. SC says with the old license operators can operate for 4 months. During this period TRAI and DoT will come up with some decisions for fresh issue of licences.
It is expected some operators like Cheers, Videocon, Loop and STel who did not invest much on business may leave the sector completely or partially but new Telecom Policy is still atleast 5 months away. But may be TRAI will come up with some rules to exit the market.
'Shocked' Uninor reacts that they are unfairly treated and expects 'the authorities to ensure that our 36 million customers, 17500 workforce and 22,000 partners are not unjustly affected.'
Idea Cellular cites " They have been unnecessarily been caught in this situation of cancelled licenses, just because the licenses were granted in January, 2008 which was as late as 18 months from the date of application. In fact, Idea Cellular had filed a Petition in TDSAT inter alia seeking to isolate our application from the 2007/08 applications, and thus requesting for priority under the then DoT policy of "first come first serve".
Happier than ever incumbent operators – Airtel and Vodafone is in a position to have the most benefits. Idea Cellular is already in trouble with double licenses in certain circles as they acquired Spice Communications. Idea and Tata have issues with 5 and 3 circles respectively which I believe will be managed easily.
Reliance Communications clears the fact that they obtained license in 2001 and it will not have any impact on them.
This verdict hits the foreign investments in India as some of reputed MNC like Telenor, Etisalat, Sistema, BaTelCo invested in these new mobile operators. It simply goes very bad impression to overseas market. More importantly Russian Govt controlled Sistema and UAE Govt controlled Etisalat are also on the list, which will certainly impact on foreign direct investments in India.
End of low tariff era in India? For last few weeks incumbent players are singing chorus to hike the tariff. With new bidding of 2G spectrum, these old players can grab more spectrum as well as it gives more financial burden to new operators which may lead to tariff hike.
New operators like Uninor and Sistema-Shyam will be in the sector for sure, as they already invested a lot and have a stable subscriber base. But if they have to pay for new bidding the immediate impact will be on workforce to cut jobs.
Subscribers of new operators may have to migrate to other incumbent players and as usual has to be part of higher tariff rates.
Whatever it is coming, it will simply hit the 'aam janta' with tariff hike, problems faced with porting out and job loss while Govt will 'just' watch out incumbent players squeezing money from people.