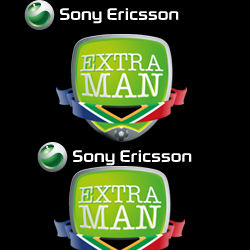 Sony Ericsson today announced the launch of its "Extra Man" campaign for the 2010 FIFA World Cup at South Africa. The campaign aims at delivering  the ultimate football experience to all World Cup supporters across the globe. Sony Ericsson aims to reward all fans with exciting activities both before and during the 2010 FIFA World Cup, enabling fans to create and share their own content.
This will be through the website www.sonyericsson.com/extraman or directly through Sony Ericsson handsets experiences. The centerpiece of the fan-focused mission will be the launch of a unique football application which will deliver the best football experience on a handset in 2010.
The company claims this will provide fans with instant access to football action videos from the best action from the World Cup qualifiers and the friendly games in the lead up to the 2010 FIFA World Cup, football news and games.
Fans will also be able to share all their football moments directly with their friends using social networking site applications built into the handset.
Stephan Croix, Head of Global Marketing Partnerships, Sony Ericsson quoted "Our aim is to provide all fans of the 2010 FIFA World Cup a rich and diverse experience including giving away tickets to 2010 FIFA World Cup matches.  All of our marketing investment will be used to enhance and improve the fan experience as we believe this is an absolute priority.  We will be working closely with our colleagues at Sony to make this happen and help fans realise their dreams".