According to a study conducted by a research firm, Nielsen, Indian smartphones audience still prefer websites for online shopping than using shopping apps on their device. However when it comes to accessing content on the smartphone, there has been an increasing preference for apps over websites.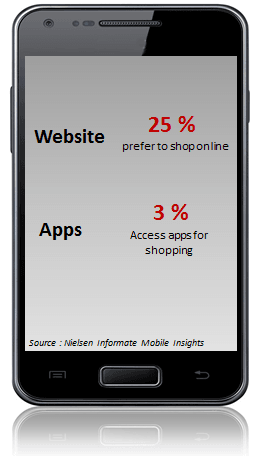 Close to 25 percent of smartphone-users in country prefer to shop online while just 3 percent of smartphone users' access shopping apps, the study
MARKET LEADERS: Flipkart leads the marketplace as most popular shopping site with a reach of 5 percent followed by eBay. As far as shopping apps are concerned, eBay has the highest penetration with just over 1 percent of smartphone-users accessing the app at least once a month, while Flipkart comes in second with a reach of just under one percent.
The above data has been extracted from the responses of more than 10,000 smartphone-users in the survey conducted by Nielsen Informate Mobile Insights in October 2012.
Although mobile shopping is still in its infancy, as NFC or E-wallet will pick pace, we may see the trend gaining traction among consumers.
Chhavi is a social media enthusiast and telecom technologies admirer. Based out of New Delhi, she is a corporate communication and marketing professional by day and writer by night. If she is not busy with Telecom, you can find her reading management books.