Last week, Microsoft said that it would be releasing a major update to its messaging platform - Skype with a plethora of new features, which will put the application on par with the rival platforms such as Instagram and Facebook. Today, the company has released the latest Skype 8.0 updated app which is available in the Google Play Store for downloads.
At this moment, the update is available only for Android users. iOS users should receive the Skype 8.0 update very soon. With the emergence of platforms such as Facebook and Slack, Microsoft's Skype seems to have lost the plot as these platforms to offer similar features including video calling, group conversations, etc. That said, various businesses still regard Skype as their go-to option for group meetings and video conference calls.
The latest update adds various new features to the platform which have been long overdue. The 'Skype Highlights,' is basically a Snapchat Stories-clone. Skype says 'Share memories with Highlights,' as you can post the images or videos you have captured in the last 24 hours and share them as a story. The posted highlight will expire after 24 hours. The best part about the feature, however, is that you can react to a highlight with emoticons and stickers.
Skype has also tweaked the calling functionality with the latest update. With the update installed, users can share photos, messages, emoticons, and stickers in real time even while on a call. Also, users can now change the background colours of the messages.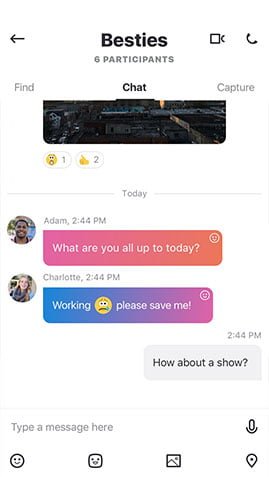 In the latest update, the chat screen is split into three tabs- Find, Chat, and Capture. In the Find tab, users can share content from other applications without leaving Skype. And in the Chat tab, you can exchange messages with people in your contact list. And lastly, in the Capture tab, you can capture images or videos and share them with friends or family members.
Skype is also supercharging the conversations. Users can now purchase tickets for an upcoming concert, or they can find delicious recipes or even plan their next trip around the world with the help of new conversation features.