India has now overtaken the United States to become the world's second-largest smartphone market, standing behind China. Compared to Q3 2016, smartphone shipments in India grew by 23% year-on-year in Q3 2017 to reach just over 40 million units. As per the research firm Canalys, the top two positions are still acquired by Samsung and Xiaomi.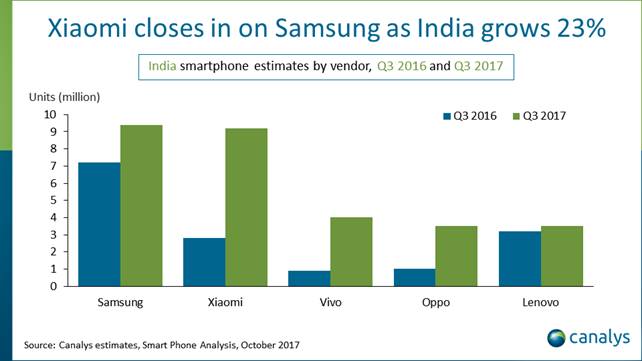 Samsung and Xiaomi shipped 9.4 million and 9.2 million units respectively and accounted for almost half of the total market. The top five vendors continued to post strong growth in Q3 2017. The top five vendors are Samsung, Xiaomi, Vivo, Oppo and Lenovo, who combinedly account 75% of total shipments in the country.
As said earlier, Samsung shipped 9.4 million smartphones, which is 30% more than compared to Q3 2016. Xiaomi has had a great 2017 until now, and the company shipped 9.2 million smartphones with a growth of 290%. "Xiaomi's growth is a clear example of how a successful online brand can effectively enter the offline market while maintaining low overheads," said Canalys Analyst Rushabh Doshi.
"But Xiaomi focuses on the low end. It struggles in the mid-range (devices priced between INR15,000 and INR20,000 [US$230 and US$310]), where Samsung, Oppo and Vivo are particularly strong. Nevertheless, we predict Xiaomi's continued go-to-market innovations will allow it to overtake Samsung within a couple of quarters." added Doshi.
Furthermore, the Canalys report added that Apple iPhone shipments are doubled YoY. Apple has shipped 900,000 units in Q3 2017 compared with Q3 2016, thanks to the Cupertino giant's local production of smartphones.
"This growth comes as a relief to the smartphone industry. Doubts about India's market potential are clearly dispelled by this result," said Canalys Research Analyst Ishan Dutt.
It is also said that the growth of the smartphone market will continue in the future as well. "There are close to 100 mobile device brands sold in India, with more vendors arriving every quarter. In addition, India has one of the most complex channel landscapes, but with low barriers to entry. Growth will continue. Low smartphone penetration and the explosion of LTE are the main drivers." said Canalys Research Analyst Ishan Dutt.