After offering the service under early access, Samsung has officially announced its payments service, the Samsung Pay in India today. The Samsung Pay service now comes integrated with Unified Payments System (UPI) service, which is touted as the next big thing in the payments system in India. In addition, Samsung also announced the support for American Express Cards from today.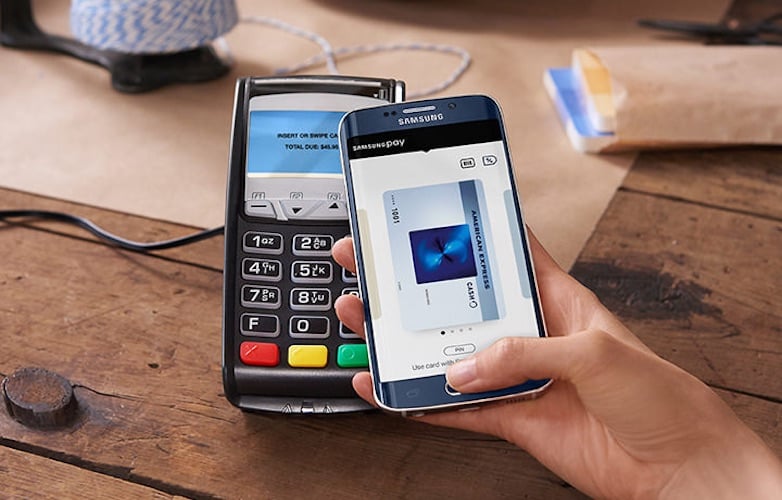 Samsung has roped in Paytm as one of the payment services in Samsung Pay. The UPI service in the newly announced payments service is still in beta stages, and the final update will be rolled out to all the users in two weeks. The UPI ID assigned to Samsung Pay is '@pingpay,' and Samsung has partnered with Axis Bank for the Samsung Pay UPI system.
The South Korean smartphone giant also made some noteworthy announcements at the event in New Delhi. Samsung Pay will be now accessed from Samsung Gear S3 Smartwatch. Citibank credit card holders can add their card in the near future as the company claims Citibank as 'forthcoming issuing partner.' For the uninitiated, Samsung Pay currently supports Axis Bank, HDFC Bank, ICICI Bank, and Standard Chartered cards.
With this announcement, Samsung Pay is now available in 12 countries with the major ones being the South Korea, Australia, and the US.
Mr. Asim Warsi, Senior Vice President, Mobile Business, Samsung India says, "Our insights show that convenience, security, and acceptance are seen by consumers as the most important influencers when choosing among different digital payment options. With Samsung Pay, we give our consumers the smartest way to make digital transactions by far. Samsung Pay is highly secure through the signature KNOX Platform, fingerprint authentication, and tokenization. We have partnered with major banks and card networks to give our consumers the widest range of choices, and are working on bringing more and more partners on board soon."
Samsung Pay works with NFC and MST (Magnetic Secure Transmission) and is currently accessible only via some Samsung smartphones such as Samsung Galaxy S7, S7 Edge, Galaxy Note 5, Galaxy S6 Edge+, Galaxy A5 (2016), Galaxy A7 (2016), and Samsung Gear S3 Smartwatch. That said, the upcoming Samsung Galaxy S8 and S8+ will also come with support for Samsung Pay. Samsung also stated that the payment service would be added to Galaxy S6 and S6 Edge as well.
If you have a compatible device, you have to download the Samsung Pay application (most of the phones, it is preinstalled) and register on the service. After registering, the payment service will ask you to add your debit/credit card, and the application can scan the card details, or you can enter them manually as well. Alternatively, if you don't have a supported card, you can link your Paytm wallet as well.
How to pay a merchant? Well, that's easy. To make a merchant using Samsung Pay, all you need to open the Samsung Pay application on your smartphone and select the card added or the linked Paytm wallet. Now, you need to place the phone near the POS machine or card reader or NFC reader to make a transaction. The machine verifies the payment, and your transaction gets completed.
Along with the initial launch, Samsung has announced exclusive offers for users whoever pays with Samsung Pay. Paytm users can get up to 100 percent cashback on purchase of movie tickets, HDFC bank account holders will get 5x reward points and Axis Bank users can get up to Rs. 1000 cashback. There are several other offers as well when you pay using Samsung Pay.