Reliance Jio is finding every possible way to impress the customers. After luring the users with the Jio Dhan Dhana Dhan offer, the newcomer has come up with yet another new scheme, which is first of its kind in the Indian telecom sector.
The new feature is called as 'My Vouchers' where a user can purchase a recharge voucher now and use it later. Sounds confusing, right? Let me explain you in brief. In the MyJio app, there's a new option called 'My Vouchers,' under which two vouchers are available for purchase – Rs. 309 and Rs. 509.
A user whoever purchases the voucher can use it at a later time. After purchasing the voucher, it will be added to the stored vouchers menu. So, whenever you want to recharge with the purchased vouchers, you can head over to the same My Vouchers section and apply the voucher from the recharge menu.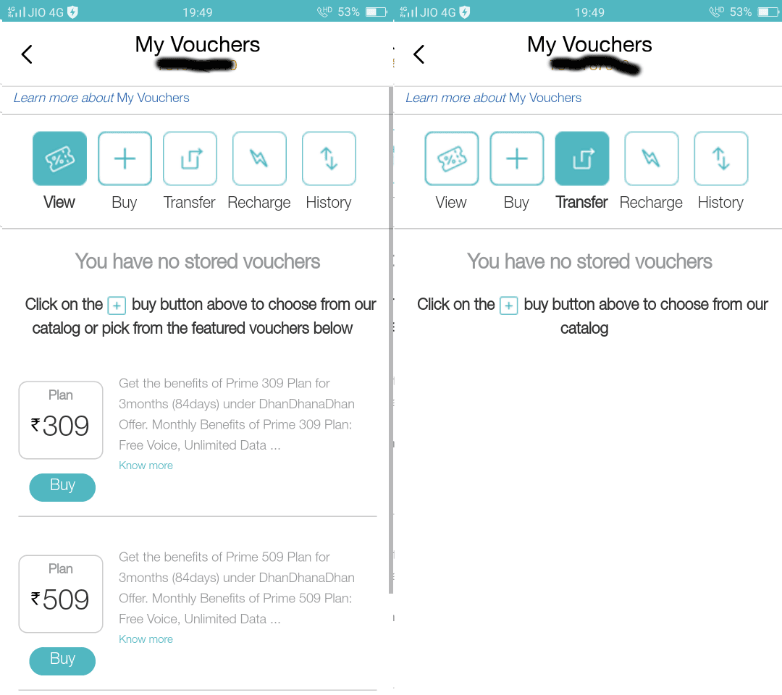 Another best part of the feature is that you can gift the voucher to your friends or family members. This can be done by heading over to the transfer section. Also, the voucher transaction history can be seen under the history menu.
The major advantage of this feature is that you can purchase a plan now and recharge with it after your current plan's expiry. With other operators, however, activating a new plan will prematurely end the existing scheme, which is the most annoying thing till date.
However, it's still unknown whether a user can purchase the Jio Dhan Dhana Dhan voucher now and recharge it after 84 days. Also, Jio did not mention any terms and conditions of the new feature until now. We are pretty much sure that this feature will raise questions about the query mentioned above.
All said, this feature is pretty new to the Indian consumers, but being a Jio's offer, there will be several catches with the plan surely. We will update you once the terms and conditions of the new feature come out.
Inputs: Gautam Gupta
This post was last modified on June 3, 2017 5:06 pm