Jio has announced the launch of the 8,100 km submarines communications cable the Bay of Bengal Gateway (BBG). The BBG will link South East Asia and the Middle East, then onward to Europe, Africa and Far East Asia through interconnection with existing cable systems.
BBG uses the most advanced high-speed broadband fibre optic technology; dense wavelength division multiplexing (DWDM) which allows the capacity to be increased at will without any additional submarine intervention. The initial equipped capacity of the system is a mammoth 9Tb/s and a staggering design capacity of 55Tb/s.
The BBG cable system is designed to provide upgradable and transmission facilities by adopting the state-of-the-art 100 Gbps technology.
Commenting on the launch of BBG, Mathew Oommen, President Reliance Jio shared, "We are excited about the launch of BBG as it offers not just direct connectivity in and out of India through Chennai and Mumbai but also acts as a state-of-the-art 100 Gbps extension of Jio's 100 Gbps core network."

"This global connectivity brings key international content hubs closer to our customers, delivering a much richer experience as an important part of driving India's broadband adoption, enabling consumers to shift away from the current high-cost low value propositions," he added.
The project was first announced in 2013 by a consortium of global telecom majors, including Telekom Malaysia Berhad (Malaysia), Vodafone Group (UK), Omantel (Oman), Etisalat (UAE), Reliance Jio Infocomm (India) and Dialog Axiata (Sri Lanka).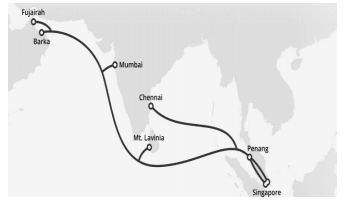 BBG is one of the new cable systems in the region in which Reliance Jio has invested as part of its broadband plans. Reliance Jio owns and operates the strategically important undersea cable landing facility in Chennai, providing a high-speed, high-capacity, low latency route connecting India to the rest of the world.