Indians sent the padlock 11 times more often than usual, which makes it most popular emoji during Diwali, says a report conducted by OnePlus India in association SwiftKey.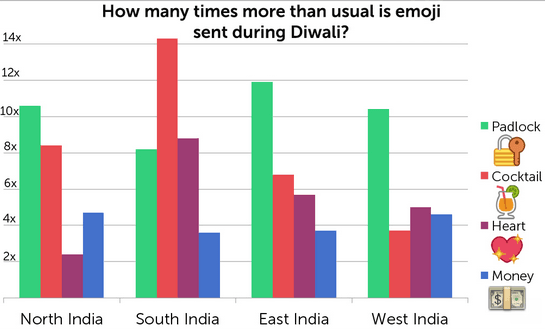 The padlock is the emoji that over indexed the most in the north and east, with north Indians sending this emoji 11 times more than usual over the festive period. Perhaps this shows they like to wish each other safety through travels and fireworks, the report said.
At the same time, eastern Indians sent it 12 times more than usual.
Cocktails emoji ruled over in the south the most over Diwali, with southerners sending this emoji 14 times more than usual, which are the second and third most sent emoji.
The West Indians share the 'sooper se bhi upar' arrow more than any other emoji, showing their high spirits over Diwali and they shared it nine times more often than usual.
Karan Sarin, Head of Marketing- India, OnePlus, said, "Emoji is one of the fastest growing digital languages, and it's astonishing to see how people have started expressing such a large variety of emotions through their smartphones. People of all ages and backgrounds are increasingly using emojis to share their thoughts and emotions with friends, family and colleagues. Who would think even a few years ago that emoji would become such an intrinsic part of our way of life?"

Ben Medlock, Co-Founder and CTO, SwiftKey, said: "People all over the world are now using them to better express themselves through their devices in more creative, personal ways - an aspiration that's really close to our hearts at SwiftKey. To this end, we have invested in India to make SwiftKey the only keyboard to give mobile users emoji predictions in 22 Indian languages."