The OnePlus 6 launch date is nearing and with every passing day, we're receiving information about the features included in the smartphone. Today's leak comes from Chinese portal MyDrivers tipping that the OnePlus 6 will feature the dual-channel UFS 2.1 flash memory standard to deliver transfer rates of up to 1.5GB/s. As per Solid State Technology Association (JEDEC), the dual-channel UFS 2.1 will use a single channel to deliver insane read and write speeds, and the OnePlus 6 is going to include that. Most of the smartphones releasing these days are coming with eMMC storage which can deliver up to 400MB/s data transfer rates.
UFS 2.1 flash memory is the highest storage standard available today. Of course, the UFS 3.0 with exceptional transfer rates was slated to arrive in Q1 2018, but that didn't happen, so expect the OnePlus 7 to feature UFS 3.0 next year, possibly. The OnePlus 6 will be able to deliver 1.5GB/s read and write speeds at the same time and that too in the same channel. Also, with the dual-channel UFS 2.1 memory, applications will load a bit faster and of course, the app installation time will be reduced too.
OnePlus has been using UFS memory on its smartphones for quite some time now. The OnePlus 5 and 5T also featured UFS 2.1 storage itself, but the data transfer rates were around 800MB/s, and that's going to increase with the OnePlus 6.
The same MyDrivers post also revealed the complete specifications of the OnePlus 6. The device will have a 6.28-inch Full HD+ display carrying a resolution of 2280×1080 pixels with an aspect ratio of 19:9. OnePlus already confirmed that there would be a 256GB variant of the OnePlus 6, which will be coupled with 8GB of RAM. The phone will also be available in a 6GB of RAM and 64GB/128GB storage options too.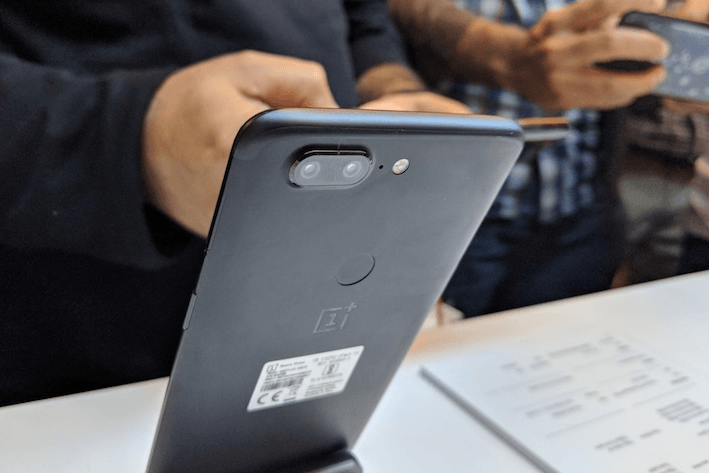 The battery capacity on the OnePlus 6, as per this post is 3450mAh with the device being powered by the Qualcomm Snapdragon 845 SoC. Cameras in the OnePlus 6 includes a 20MP rear primary camera and a 16MP secondary sensor, both featuring an aperture of f/1.7. A 20MP camera will be present on the front with f/2.0 aperture.
OnePlus has already started teasing (building hype) for the OnePlus 6 on social media platforms. The launch date of the OnePlus 6 is unknown at the moment, but going by the tradition of OnePlus' teasing, the brand will unveil it exactly a month later from the date of starting the official teasing. So count for the OnePlus 6 release date for the first week of May.