India has moved a inche closer to making mobile phones virtual wallets by launching another innovative product that will allow seamless and real-time inter bank fund transfer from one person's Bank account to another through Mobile Phones.
National Payments Corporation of India (NPCI) commercially launched the "Interbank Mobile Payment Services it is India's first instant, real-time, 24*7 fund transfer facility in the retail payment sector. IMPS is co-created by NPCI along with its partners, participating banks, their service providers, MPFI and IDRBT.
This service has been available with 7 banks viz. State Bank of India (SBI), Bank of India (BOI), Union Bank of India, ICICI Bank, HDFC, AXIS Bank and Yes bank. Seven more banks are in the process of activating the IMPS and 22 others are expected to join the IMPS network soon.
How To Avail the Service : To avail of the service, an banking account holder will have to get mobile money ID (MMID) from the bank. MMID will be his ID for all mobile-commerce transactions.The banks will install special application on the mobile phone from where the remitting will be done.Once the process is complete, the bank account holder can remit money to anyone, provided he has the receiver's MMID and mobile phone number.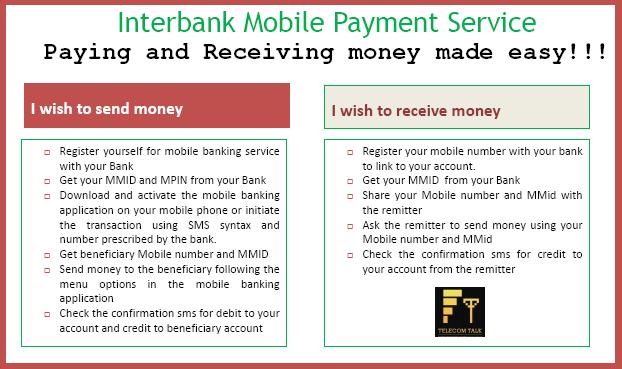 In case of a low end Mobile Phone, where the Mobile Banking Apps cannot be installed or support, money can be transfered through SMS. Presently, the service will be free for the account holder with banks bearing the cost of just 25 paisa per transaction. In case of SMS based remittance, the account holder will be charged Rs 2 per SMS, which NPCI is trying to get waived-off by talking to mobile phone operators, an NPCI official said.According to Reserve Bank India (RBI)'s Mobile Banking regulations the maximum amount to be remitted through mobiles at Rs 50000 a day.
There are 600+ million mobile subscribers in India and is considered more than the number of bank accounts. IMPS vision is to help migration of paper based payments to electronic payments, and provide cost effective, safe and fast payment options for larger sections of the society using ubiquitous mobile phones and leverage the technology available with all banks.