Lenovo-owned Motorola announced the launch of three new Moto Mods for its premium flagship Moto Z range of smartphones. These Moto Mods can be magnetically attached to Moto Z series and turn it into a boombox, a handheld gaming console or a battery powerhouse. The new Moto Mods include the JBL SoundBoost 2 Mod, the GamePad Mod, and the Turbo Power Pack Mod.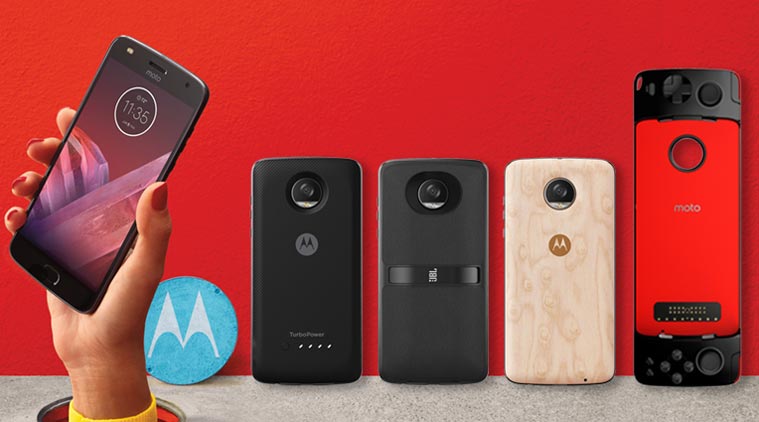 The JBL SoundBoost 2 is available for Rs 6999 and succeeds the previously launched JBL SoundBoost Mod. Moto claims a party-like music experience, 10 hours playback time and water repellent coating with this mod. A new app called "My JBL SoundBoost 2" will be available for managing the sound settings.
The JBL audio Mod comes in Red, Blue and Black colour options featuring a fabric-coated back for a better grip. There is also a built-in kickstand for a hands-free experience.
The second is the GamePad Mod which costs Rs 6999. It snaps to the back of the smartphone and transforms it into a hand-held gaming device. The GamePad dual-control sticks, D-pad and four action buttons, and comes with 1035 mAh battery.
The Moto Game Explorer pops up on the first installation and gives you compatible games on the Google Play Store. Upon installation of the games, the GamePad Mod automatically gives you functionality for a true gaming experience.
Finally, there is Moto TurboPower Pack Mod that adds extra one day of life to Moto Z series device. The Mod packs in a 3500 mAh battery with fast charging for your backup needs on the go. It snaps to the back of a Moto Z phone, much like other mods and claims to offer 7 hours of battery life with just 15 minutes of charge. The TurboPower Pack Mod is priced at Rs. 5,999.
The Mods can be purchased on Flipkart and as well offline Moto Hubs and other Moto retail stores starting December 17. The Moto Mod compatible devices include only the Moto Z, Moto Z Play, Moto Z2 Play, Moto Z2 Droid, and the Moto Z2 Force Edition. However, the Z2 Force is yet to made available in the Indian market.
In addition, the company has collaborated with "RentoMojo" that let customers experience the Moto Mods before buying them. You will be able to rent Moto Mods on RentoMojo.com starting Rs 399 a week. The service, however, will be limited to three metro cities.