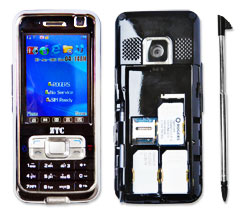 Every one know that dual SIM mobile phones are quite popular in India and, to tell the truth, there are quite a few good reasons why some people may want to carry a mobile phone with two SIM cards in their pocket, instead of lugging two handsets at a time.
But a phone with 3 SIM cards? Well, that seems like a bit of an overkill.
Double SIM mobile phones are becoming quite common place these days, but not so much is the triple SIM mobile phone. Apparently there has been one before in China and apparently there's another 3 SIM card mobile handset now been spotted.
This new triple SIM mobile phone is the Airello Q-3SIM-3Band-GSM-XUV, a mouthful of a name, and made by QiiQ EcoCarrier who operate in RAK Free Economic Zone in the UAE.
So what does this one offer…a 2.4 inch QVGA touchscreen, Bluetooth, media player, and a 2 megapixel camera and of course the 3 SIMs, and that's about it; detail specification the above Tripal Sim Card phone is here-:
Airello Q-3SIM-3Band-GSM-XUV brochure
So we have 2 SIM phone, 3 Sim phones, what's next? How about someone coming up with a multi-SIM that does every carrier in one SIM card?