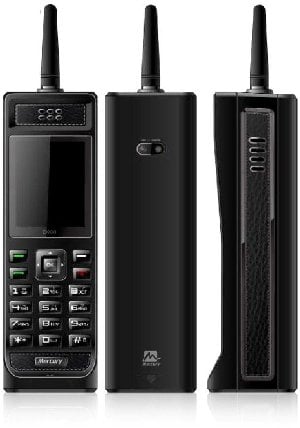 Kobian has come up with Mercury D800 Mobile phone, a unique combination of Mobile and Desktop Phone for Indian consumers.
The Mercury D800 is a Dual SIM phone with a 2.2 touch Screen LCD Display and features like 1.3MP Camera, Micros SD(4GB) support , Cable-free loudspeaker FM , MP3 /MP4 Media player.
The phone is powered with 4100mAh battery allowing a 16hr talktime and 60days Stand-by time which makes it stand out amongst the current league of mobile phones available in the market.
The Mercury D800 is designed to serve the dual purpose of being used both as a Desktop & a Mobile phone for the Home and Small Office Home Office Users. For Office users it can serve as one set which stores the contacts of all clients at one place as the phone allows a phonebook of 2000 address,D800 has been aggressively priced for India market at Rs 5625 for the end customers.
Discussing the roadmap ahead, Ms Sushmita Das, Country Manager-Kobian, said 'The Mercury D800 is packed with rich set of communication and multimedia features with a striking design. It allows users to upgrade their traditional desktop phone to a powerful desktop mobile phone. It offers a Touchscreen, Camera, Bluetooth, MP3 & FM Player, SD Card support & is ready with the social networking sites like Facebook,etc. Our users shall enjoy all these features on a phone which is designed bigger than the conventional palm sized mobile phones' Said Ms Sushmita Das , Country Manager Kobian Pvt Ltd.