A report released by IDC reveals that Lenovo and Xiaomi have lost their position to other Chinese manufacturers. The data suggests that there were total 334.9 million smartphones shipped worldwide in the first quarter of 2016. The figure has gone slightly up from 334.3 million units last year. It also marked the smallest year-over-year growth for smartphone shipments.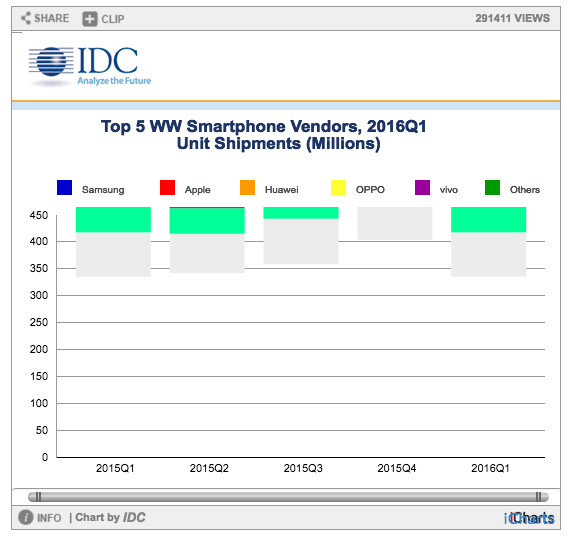 The new entrants to the arena are Oppo and Vivo with 4th and 5th position on the chart, respectively. Number 1 position is taken by Samsung, followed by Apple and Huawei on 2nd and 3rd. The data is pretty surprising though as we used to take Vivo and Oppo as Chinese market leaders only. Interestingly, Oppo now receives nearly 20 percent of its businesses from outside China. The variation in market share marks an important growth bend in the smartphone market. A year ago, Apple's sales sunk in China by 25 percent although it managed to stay at the No. 2 spot with 15 percent of market share.
Commenting on the data, IDC's Melissa Chau said in a statement,"These new vendors would be well-advised not to rest on their laurels, though, as this dynamic smartphone landscape has shown to even cult brands like Xiaomi that customer loyalty is difficult to consistently maintain,"
Well, the data is more like an alarming bell for Xiaomi mobiles and Lenovo. Maybe they need to re-strategise to claim their lost glory.